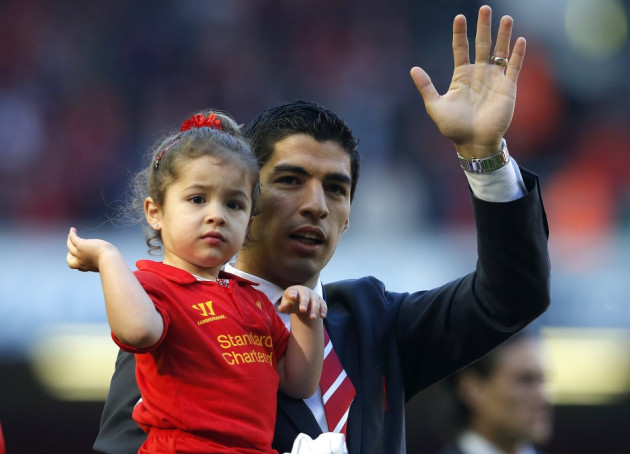 Former Liverpool favourite John Aldridge believes Arsenal's bid for Luis Suarez is merely a publicity stunt.
Brendan Rodgers last week claimed The Reds had received a bid for Suarez's services which fell short of the club's valuation.
Suarez wants to leave the Premier League after being vilified in the British press following a series of on-field controversies during his spell at Liverpool, but it is Arsenal who have reportedly had a bid rejected.
But Aldridge says the rumoured bid of £30m is a ploy to convince supporters they are striving to make high-profile signings in the transfer window rather than a genuine intention to add the Uruguayan international to their strike force.
"Arsenal have yet to prove they are willing to offer a decent asking price for Suarez," said Aldridge wrote in the Sunday World.
"Okay, so they put in a bid of £30m for him, but do you really think Liverpool would sell their best player to a domestic rival for a knock-down fee?
"Of course they wouldn't and Arsenal knew that when they knocked on the Anfield door with their derisory bid for Suarez. Come back with an offer that says we can have Jack Wilshere and £15m, then we will listen to you Mr Wenger.
"We are talking here about one of the best strikers in world football right now and in a week when you see his international team-mate Edinson Cavani joining Paris Saint-Germain for £60-odd million last week, it reminded us all of the value the commodity Liverpool have on their hands in Suarez.
"That's why I suspect Arsenal's pursuit of Suarez may be a publicity stunt. They can claim they were after Suarez and Real Madrid's Gonzalo Higuain all summer long, but will the top players want to sign on the dotted line for a club that gave up winning trophies nearly a decade ago? I doubt it.
"Arsenal are a very well-run club, they are in the Champions League every season and have a decent record of getting through to the knock-out stages of that competition, but they are hardly contenders for major honours any more than Liverpool are at this moment."
Rodgers has admitted only a substantial bid could prise Suarez from Liverpool this summer.
The ex-Ajax forward linked up with the rest of the Liverpool squad over the weekend for their pre-season tour in Australia after being given an extended summer break following the Conferations Cup.