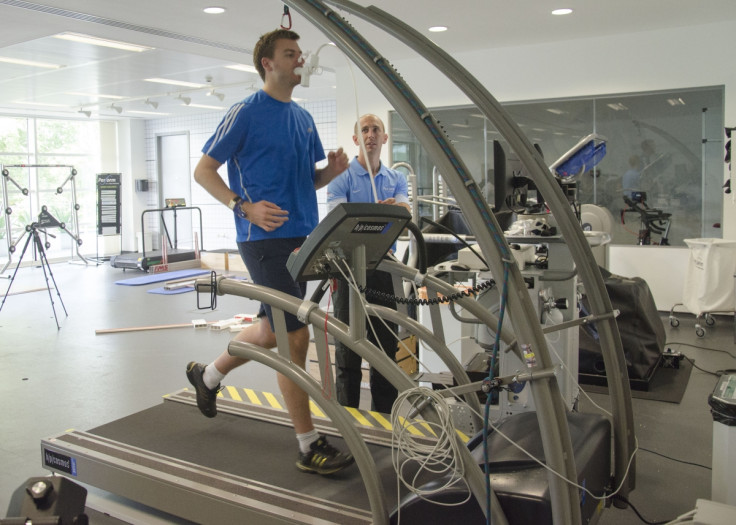 "Subject to a medical". It's a tag line pinned on to the end of every major football transfer, usually right after "for an undisclosed fee". Getting clubs to agree a price for a player is the hard bit. Surely getting a footballer, an athlete you like to think is in pretty decent nick, to complete a straight forward medical examination should be relatively straightforward?
IBTimes UK went to Perform at St George's Park, home of the world-class medical facilities used by clubs and players across the country based at the Football Association's sprawling national football centre in Burton-upon-Trent. We wanted to see what really happens during the final hurdle in your modern day football transfer.
Shattering a few myths around the whole process was the first order of the day. The idea of a player failing a medical isn't quite as black and white as it seems. Loic Remy's proposed move to Liverpool from Queens Park Rangers in the summer of 2014 was one of the more notable cases in recent years where the medical examination reportedly played a role in the move breaking down. But Dr Charlotte Cowie, clinical director at Perform at St George's, explained to IBTimes UK the idea of simply passing or failing a medical is one of the biggest misconceptions going.
She said: "Essentially, a medical is never a straight yes or no. Sometimes we use a traffic light system [red, amber, green] on various issues to give club an idea of where we think that player sits, red obviously being given to issues that are of the most concern. Depending on how much they want the player, the club will make a decision whether to go ahead with that signing based on this data."
Cowie's role in the process involves compiling the player's medical history and carrying out a physical examination of the player's body. Having overseen many medicals during her time at Perform, she stresses their role is to give the buying club a clear and independent idea of what potential problems they could run into.
She said: "It is usually the case of most things being imperfect and a bit of a compromise being struck. It is very much about how much a club wants a player and what risks they are ready to take. Once you get past a certain age, most players will have had injuries and you just have to weight it up and see where they stand on the spectrum of other players who might be considered."
After seeing the club doctor, a player's next move is a series of fitness tests and assessments with physiotherapists and sports scientists.
My next stop was with Dr Carl Wells, sport science lead at Perform at St George's Park in the human performance lab. I was given a walkthrough of the biodex assessment, a rather expensive looking piece of equipment designed to test a muscle strength and torque, specifically to test if there is an imbalance between quads and hamstrings. This involved getting strapped into a chair and extending your leg by kicking out before pulling it back to the starting position. The process was repeated five times, with more resistance being applied on each go.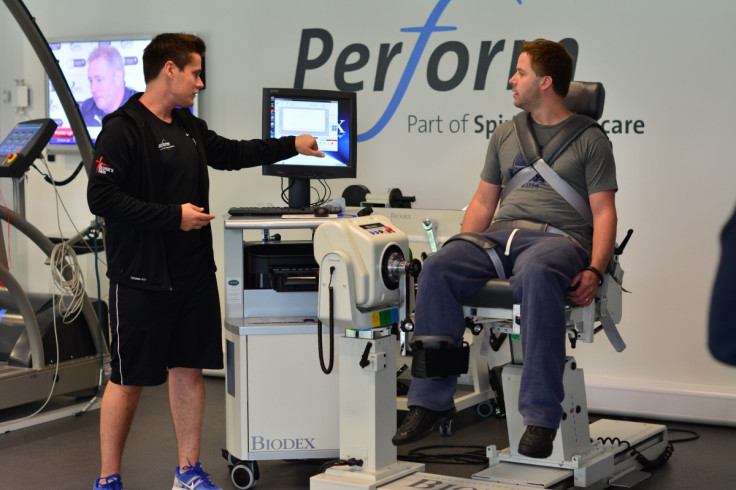 You only need to look at the recent spate of problems in the Liverpool squad to see how problematic hamstring problems can be and Wells explained this part of the medical helps prospective clubs determine what state key muscle groups are in.
But a history of hamstring problems doesn't automatically see a big red X struck across the player's name. Wells explained low scores in these tests may spring "red flags" in the final report he passes on to the buying club. But, like all aspects of this process, it is it to club whether they take them on board.
Much of this also involves advising clubs on how to handle these potential red flags. "A more obvious issue would be isokinetic strength imbalances between left and right side muscles, which mostly stem from previous injury history," he said.
"We also test for imbalance between hamstring and quadriceps strength. If that player has a previous anterior cruciate ligament injury, and they have had a hamstring graft to repair that, typically you would find the hamstrings on that side are particularly weak. That's something we need to clarify to the club and tell them it would be in your interest to strengthen this particular area if you wish to sign the player."
Also in the human performance lab was the VO2 max assessment, a measure of a player's maximum aerobic capacity and a series of cardiovascular assessments.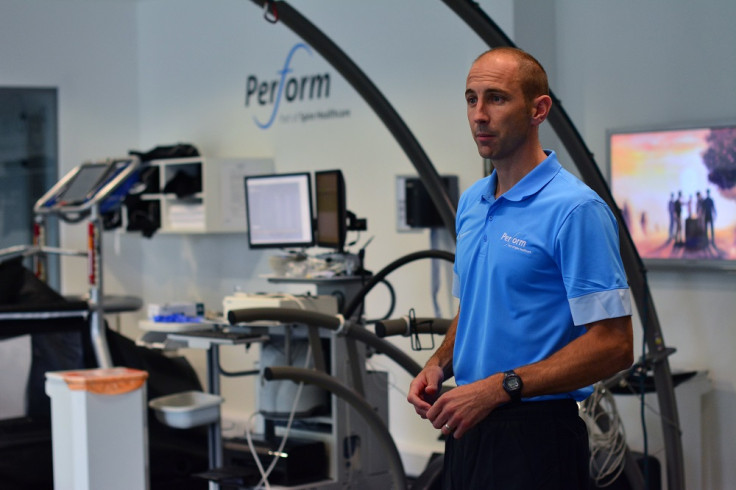 Next on the agenda was Paul Williamson, physiotherapist lead with Perform at St George's, who oversees orthopaedic and full movement screenings. After offering to have a look at the knee injury that brought the curtains down on my own glittering career as a hopeless Sunday league journeyman, he explained how he and the other practitioners at Perform help provide a feedback system of sorts to clubs looking to make a telling contribution to their squad.
Again, he was quick to stress that there is no pass or fail in his section of the medical process which typically takes two hours to complete (plus a further three for him to compile his report.) That process revolves around muscle screening that analyses muscle strength, muscle length, joint integrity and ligament strength.
It's during this process where a player's injury history is really brought under the spotlight. You can probably recall Radamel Falcao's arrival at Manchester United on deadline day in 2014 and how it was celebrated across the red half of the city. Initially, memories of that anterior cruciate ligament injury suffered eight months earlier that ruled him out of the World Cup were forgotten. They soon came back in what as a harsh reality check for both the club and the player.
The player who was once recognised as one of the most revered strikers in world football now stands as a shadow of his former self due to that injury. Surely United and Chelsea would have been made aware of the problems before signing him?
When we asked Williamson how these sorts of injuries impact the medical, he said: "In football in general, we tend to find we are always looking at hip and knee control. It's vitally important. Anterior cruciate ligament knee injuries can be massive, the biggest injury in football.
"They occur in a certain movement pattern, so we reproduce that movement pattern in an overhead squat and a single leg squat, for example. We tend to find some players struggle to control their knees and hips during simple tasks like those.
"If they really struggle with that, if they can't control it on a single leg, it is unlikely they will be able to control it while out on the field, when they are actually out running, jumping, twisting and turning. There is a lot of force going through the knee in particularly when they are tired and fatigued. That is when the risk goes up."
In these situations, Williamson and his staff will pass on recommendations to the club on how to lessen the risk of injury, highlighting the relevant data so the club can make "an informed choice" on the player.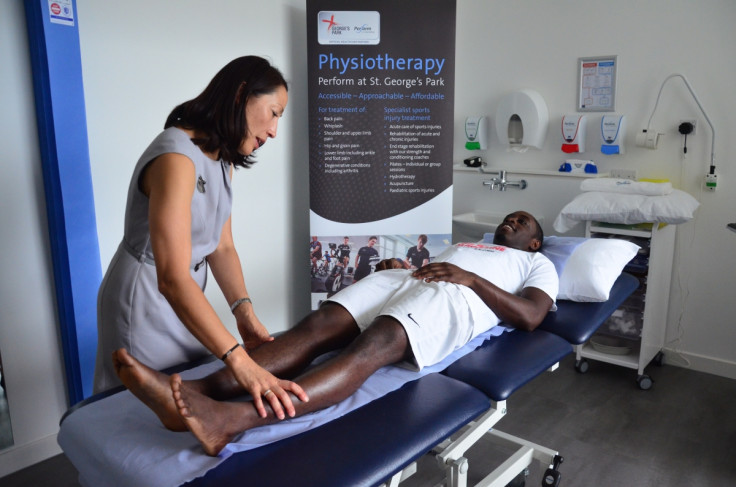 From the club's perspective, all this data will ultimately decide whether the player in question is worth the risk. Whether they are offered a five-year-contract or one lasting a year will often depend totally on how well a player has performed in these tests.
"The club can take the information as a matter of fact, it is up to them what they do with it," Williamson said. "It's important for clubs to make a good call on a player, they are often putting a lot of money on the line. If a player signs a five-year contract and one week into it they becomes injured and spend the next two years out, it's not good value for money."
Conversely, having this medical data on hand can help the club in the negotiating process. Transfers are now almost typically riddled with clauses designed to ensure clubs get more bang for their buck if there is even a slight hint of a risk involved in the move. As any seasoned Football Manager veteran will know, fees based on appearances are common enough these days, and the findings of a medical are a club's biggest bargaining chip in getting the right fee for themselves.
"Depending on how much a club wants a player, compromises can be made," Cowie added. "If we think there might be a high injury risk, rather than not signing them, they [the club] might use that information to try and do a deal where rather than paying all that money up, front some of it is based on appearances for example. It helps with the negotiating in the deal."
Which brings us to transfer deadline day. When the clock is ticking, how do clubs fit in a medical that on average can take four hours to complete? Like almost everything in this process, compromise is key.
Cowie said: "The idea that you can complete a thorough medical in half an hour is another big misconception. It's really that it is better to have some information rather than no information when making your decision.
"Most managers will rather you do a bit of a medical and get some sort of idea rather than nothing at all. So we can have situations where some have come for a medical and the club has to accept we don't have time for some scans, but we can give you as much information as we can in the time we have got. Hopefully that can help them make the decision that they might need to urgently make that day."
Perform at St. George's Park is available for the support of players and clubs during the transfer medical process. To keep up to date with Perform, follow @PerformSGP on Twitter.