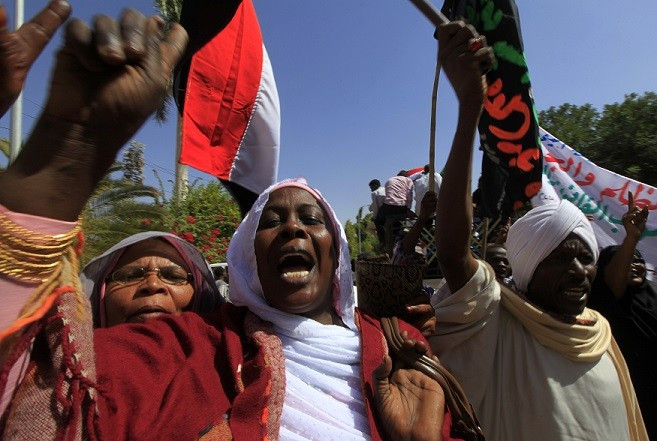 At least 27 people have been killed in clashes in the Sudanese capital Khartoum over the government's decision to scrap fuel subsidies.
Thousands of people set fire to cars and petrol stations and threw rocks at passing vehicles in the third day of protests across the country.
Police fired tear gas in an attempt to control the disorder. Witnesses said protesters torched a police station in the north of the capital, as well as a tourism ministry building.
The main road to the Khartoum airport has been blocked with burnt cars.
The unrest began after the government lifted fuel subsidises to raise revenue, causing the price of fuel to double.
As the protests spread from the capital to other cities, Sudan's president Omar al-Bashir cancelled a trip to the UN General Assembly. The internet was also abruptly cut off in what appears to be a move by the Sudanese government to prevent protesters organising further riots via social media.
Doug Madory, from internet monitoring firm Renesys, told the Guardian: "From the connectivity data alone, we cannot tell whether the blackout is government-directed.
"However, it is either a coincidental catastrophic failure of all three independent internet providers and their connections out of Sudan, including a terrestrial link into Egypt - unlikely given it's not just a single connection - or some centrally directed, government action."
Officials have condemned the protests, describing them as "premeditated" acts of sabotage.
Sudan lost most of its main oil-producing territory when South Sudan broke off as an independent state in 2011, taking 75% of its oil reserves.
Bashir, who seized power in 1989 and is wanted for war crimes and genocide, has defended lifting the oil subsides, saying the country's economy would collapse otherwise.
The US embassy in Khartoum called for an end for the violence, saying: "We call on all sides not to resort to force and to respect civil liberties and the right to peaceful assembly."
The embassy added it had received "regrettable reports of serious injuries and attacks on property during demonstrations which turned violent".
Sources at Omdurman hospital said that 27 people have been killed in the protests, all from gunshot wounds.
The government attempted to lift fuel subsidies last June, sparking similar protests. However, the unrest quickly fizzled out after a heavy crackdown.