Indonesia and Malaysia have reached an agreement to save the critically endangered Sumatran rhino.
Fewer than 100 Sumatran rhinos exist today in a last-ditch attempt to save the species from extinction, the two countries are drafting a two-year emergency action plan.
The last wild populations live in Sumatra, western Indonesia and Sabah in Malaysia.
At a summit in Singapore convened by the International Union for Conservation of Nature's Species Survival Commission (IUCN SSC), over 130 experts and government officials met to discuss how to tackle the crisis.
Widodo Ramono, executive director of Yayasan Badak Indonesia, the rhino foundation in Indonesia, said: "Serious steps must be taken to roll back the tide of extinction of the Sumatran rhino.
"This could be our last opportunity to save this species and, by working together as a collaborative unit, internationally and regionally, with an agreed vision and goals, a glimmer of hope has been clearly demonstrated.
"We need to act together urgently, hand in hand, replicating some of the inspirational successes of other conservation efforts and aim to stop any failures that might impede progress."
The Sumatran rhino is the smallest and last species of two-horned rhino that has existed on the planet for 20 million years. The stand at between one and 1.5m tall and can live for up to 40 years.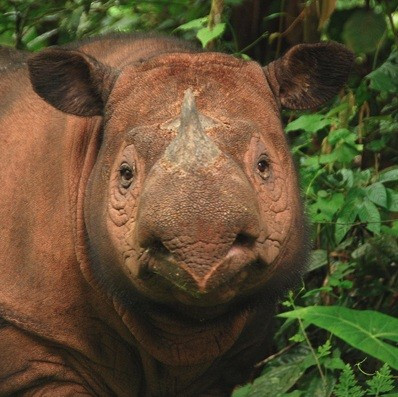 Two other species of rhino - the Western Black rhino and a sub-species of the Javan rhino - have been declared officially extinct since 2010.
Malaysia and Indonesia have had a turbulent relationship since the 1960s when the later opposed the creation of Malaysia.
More recently, however, the human resource minister for Malaysia said relations were "healthy".
This latest meeting marked the first time Indonesia and Malaysia have teamed up to save the Sumatran Rhinos and they will now formalise the agreement to take the next steps to prevent extinction.
Laurentius Ambu, director of the Sabah Wildlife Department in Malaysia, said: "We would like to reiterate Sabah's commitment and our willingness to further discuss with Indonesia opportunities to exchange reproductive cells of the species, move individual rhinos between our countries and to employ advanced reproductive technology as a parallel initiative in the Sumatran rhino captive breeding programme."
Mark Stanley Prince, chairman of the IUCN SSC Species Conservation Planning Sub-Committee, described the summit as "transformational" by bringing the two countries together.
"Huge progress has been made in specifying the resources needed to improve rhino surveys, security and monitoring. We have also explored the potential of new technologies and the role of integrating the management of wild and captive individuals," he said.
READ:
South Africa: Rhino Horns Contaminated with Toxic Drug Cocktail to Prevent Poachers
Rhino Horns Injected with Poison to Deter Poachers
Poaching and Prostitutes: Thai Man Sentenced to 40 Years for Smuggling Rhino Horns in South Africa
South Africa and Vietnam Sign Historic Anti-Rhino Poaching Agreement