When George Osborne announced the creation of a new living wage in the summer budget, his announcement that "Britain deserves a pay rise" would have stuck in the throat of Britain's unionists as he commandeered their 2014 slogan.
"Britain needs a pay rise" was the catchline of the Trades Union Congress' Conference in September 2014 and then the name of an October protest organised by the union movement the following month.
The TUC said at the time that 2014 was the year of "rising prices, shrinking pay packets, and unemployment rates". Some 90,000 union members marched through central London at the call of the TUC. Members of the dozens of unions marched under the banner "Britain needs a payrise" and sister protests were staged in Glasgow and Belfast.
In a statement to IBTimes UK TUC general secretary Frances O'Grady said: "It's one thing for the chancellor to commandeer the TUC's slogan 'Britain Needs a Pay Rise', it's another thing for him to actually make meaningful change for working people in the country. It's not a one-nation pay rise, because young people get nothing more and public sector workers get real wage cuts until 2020."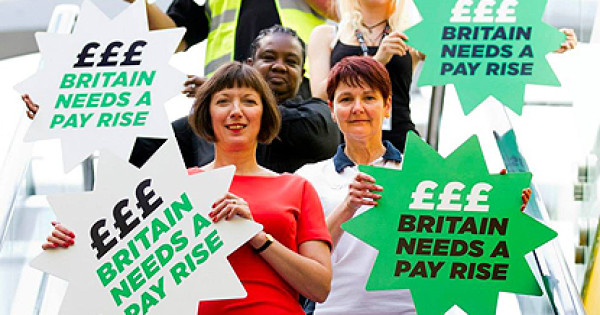 TUC has railed against the Conservative budget announced on 8 July. It has said: "The chancellor is giving with one hand and taking away with the other. Massive cuts in support for working people will hit families with children hardest."
Speaking in the House of Commons yesterday George Osborne said: "In the last five years we've taken the tough choices to drive down our borrowing, make our business taxes competitive and reform welfare.
"It's because we've taken these difficult decisions, and overcome the opposition to them, that Britain is able to afford a pay rise. Because let me be clear: Britain deserves a pay rise and Britain is getting a pay rise."
The chancellor said the new living wage had been set to reach £9 an hour by 2020 and that The Low Pay Commission would recommend future rises to achieve the Government's objective of reaching 60% of median earnings by 2020.