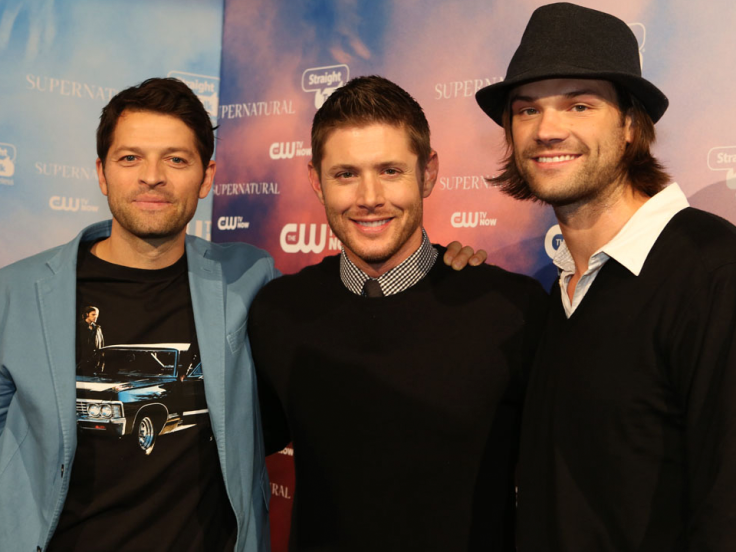 Leaked behind-the-set pictures for Supernatural season 11 give us a lot of spoiler details of what to expect in the premiere episode.
Just Jared shared a behind-the-sets picture of Jensen Ackles and Jared Padalecki, in which the Winchester boys were spotted with Ruth Connell aka Rowena Connell. Connell, who plays Crowley's mother in the CW series, was seen sporting platinum blond hair.
Dean is seen wearing a printed shirt and Sam is wearing his usual checked shirt. The season 11 plot may revolve around the Winchester brothers asking for the witch's help to take down Darkness which was unleashed in the finale of season 10.
The season 10 finale left Sam, Dean, Castiel and Crowley in dire states. The Winchester brothers are enveloped by Darkness, and the angel is struggling to fight Rowena's guard dog spell that compels him to kill the King of Hell, in the episode titled My Brother's Keeper.
Jared Padalecki shared a picture and a short sneak-peek video of their first day of shooting for the show's upcoming season.
Sharing the video, Padalecki wrote, "DAY 1 OF SEASON 11!!!!! How in the world have we gotten here?!?! I'm thrilled and excited to be working with our director (Mr Jensen Ackles). And I'm sending some sneak-peek footage. SO, give it a look before I'm forced to take it down."
The video confirms that Jensen Ackles will direct the premiere episode, which is titled The Bad Seed.
The actor also shared another picture with Jensen Ackles and Misha Collins after a "hard fought day 1".
Supernatural season 11 premieres on 7 October at 9pm ET on The CW.