Monster Tuna Capsizes Hawaiian Fisherman's Boat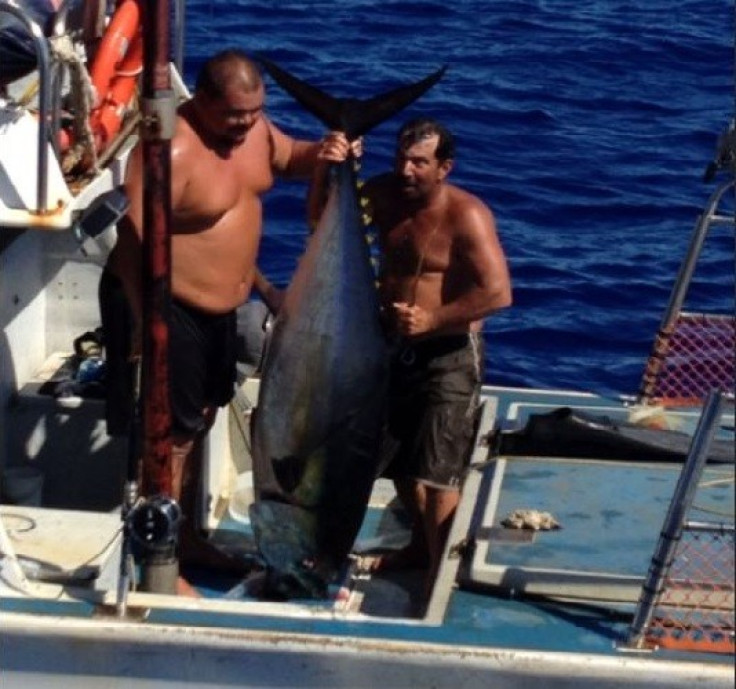 A fisherman has been dragged underwater by a monster tuna that caused his boat to capsize.
Anthony Wichman still managed to hook the monster fish off the island of Kauai in Hawaii.
But when the 54-year-old fisherman brought the enormous 200-pound (90kg) tuna on board, the boat capsized under the weight, and he toppled overboard.
The fisherman nearly drowned when his leg became tangled in the fishing line, dragging him underwater.
After some time, he managed to free himself and climb on to the hull of the upturned boat to phone his wife.
A rescue crew found Wichman sitting on the hull of his partially submerged vessel.
The fisherman was taken to hospital with minor injuries.
His friends towed the capsized boat back to shore, with the monster Ahi tuna also in tow.
"At the end of the day, we couldn't have asked for a better rescue," said Lieutenant Jessica Mickelson, of the US Coast Guard, according to a Sky News report.
"Mr Wichman was delivered safely to shore with minimal injuries and he and his friends will have quite the indisputable fish tale to tell."
Yellowfin, or Ahi, tuna are found throughout the year in tropical waters, often close to anchored buoys, dolphins and other large marine animals.
Despite their short life span of between six and seven years, they can grow over six feet (1.9m) long and weigh over 400 pounds (180kg), according to the US National Marine Fisheries Service.
The International Game Fish Association (IGFA) record for this species stands at 388 pounds (176 kg) for a fish caught in 1977 near San Benedicto Island in the Pacific waters of Mexico.
In 2012 a fisherman in Baja California caught a 427-pound (193kg) yellowfin tuna. If the catch is confirmed by the IGFA, the fisherman will receive a prize of $1 million (£654,000).
Watch giant tuna being caught
© Copyright IBTimes 2023. All rights reserved.