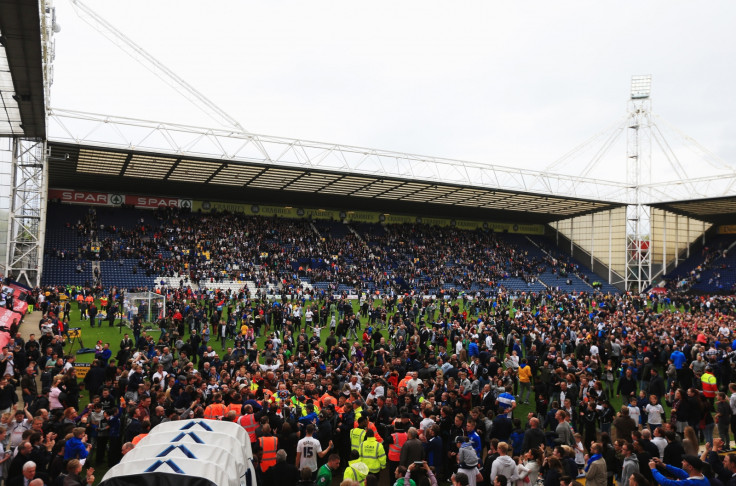 Lancashire Police have arrested a 20-year-old supporter in connection with an alleged attack on Chesterfield captain Ian Evatt following the League One play-off semi-final against Preston North End at Deepdale.
Evatt, formerly of Preston's local rivals Blackpool, said he was "punched, kicked and spat on" by supporters who invaded the pitch at the end of the 4-0 aggregate win over Chesterfield, which booked the club's first trip to Wembley for 21 years, and submitted a statement to police.
Confirmation that police were reviewing close circuit television footage and material captured by broadcasters Sky Sports has been followed with the news that a man from Preston has been arrested in relation to the episode on Sunday (10 May).
A statement added: "Police are continuing to investigate the alleged assault on Chesterfield player Ian Evatt, which followed an otherwise largely peaceful incursion onto the pitch. The player was thankfully not seriously hurt.
"Officers are continuing to try and identify anyone involved in the assault."
Preston have refused to comment on the episode as police continue their investigations, however, the club face a possible punishment from The Football Association, which could include a hefty fine.
The FA will ask both clubs for their observations and judge whether Preston could have prevented an incident which worked to overshadow the club's progress to the play-off final where they face Swindon Town or Sheffield United for a place in next season's Championship.
The 33-year-old Evatt took to Twitter to first report the incident and claimed he hoped the offending fans were "locked up".
"To be attacked on a football pitch and fear for your safety is an absolute disgrace I was punched kicked and spat on several times," said Evatt, who played for Blackpool from 2007 to 2013.
"Sky Sports have given clear video footage to police and I hope those responsible are locked up!"