Microsoft is taking aim at Google's Chromebook PC market with a new Surface laptop running a stripped-back version of its classic operating system dubbed Windows 10 S. Simply called Surface Laptop, the new hardware was unveiled at an education-focused Microsoft event in New York City on 2 May.
Touted as a device built to "empower the students of today with the technology of tomorrow," the Surface Laptop features a Full HD (1080p) 13.5in display with the Surface family's PixelSense capacitive touch technology, an Alcantara fabric keyboard, and is powered by Intel's Core i7 or i5 processors.
Unlike the rest of the portable members of the Surface family, the Surface Laptop is not a 2-in-1 hybrid device, instead offering a fixed, thin, clamshell design, weighing in at 2.76lbs and measuring just 14.47mm at its thickest point.
While it runs the new streamlined, Chrome OS-like Windows 10 S operating system as standard, Microsoft confirmed that it can be upgraded to Windows 10 Pro, although Microsoft's Surface boss Panos Panay bullishly stated that "you shouldn't," because "this device, this OS, they're made for each other, and together they offer so much."
Panay also talked up the laptop's battery life during the event, claiming it will last 14.5 hours off of a single charge – "more than any [Apple] MacBook available today."
On the port front, the Surface Laptop includes a regular USB port rather than USB Type-C, a mini DisplayPort and a traditional Surface power connector set-up. It will also launch in four colour variants: Platinum, Burgundy, Cobalt Blue, and Graphite Gold. The Surface Laptop is also compatible with the Surface Pen stylus and Surface Dial.
Pre-orders for the Surface Laptop opened immediately following the #MicrosoftEDU event, with the base model (Intel Core i5, 4GB RAM and 128GB SSD storage) priced at $999 (£773) in the US.
Update: Microsoft has confirmed pricing for the Surface Laptop on its UK store - and it makes for uncomfortable reading compared to the US retail prices. The basic model noted above is listed for £979 and will "release by" 15 June.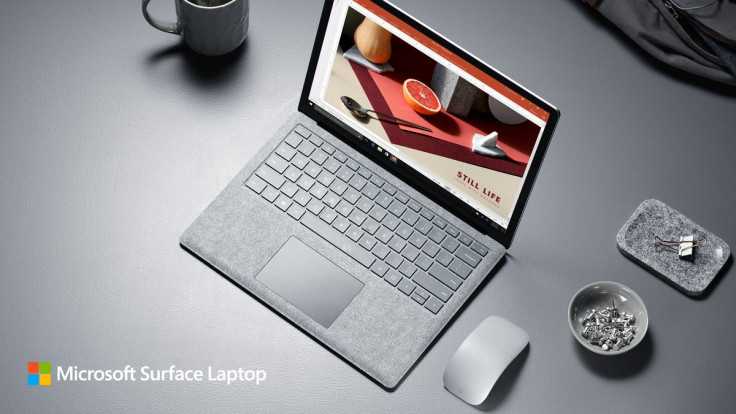 Windows 10 S and education focus
While the latest member of the Surface hardware family drew the most attention at the Redmond giant's showcase, Microsoft's new streamlined version of its leading OS formed the core of the event.
Despite constant explanations and demonstrations showing how Windows 10 S is aimed at the education market, the simplified OS is clearly designed to compete with Google's Chrome OS and run on its own Chromebook-like Surface Laptop as well as low-end hardware from other manufacturers such as Samsung, Asus, Acer and other major PC players.
Taking a "simplify to magnify" approach and based on feedback from school teachers, Windows 10 presents a "familiar, productive Windows experience, streamlined for security and performance," Microsoft said.
Windows executive vice president Terry Myerson explained that unlike the usual desktop experience with Windows, "everything that runs on Windows 10 S is downloaded from the Windows Store," indicating that all apps (including traditional desktop apps) from other developers will need to be verified and sourced by end-users exclusively through Microsoft's Windows Store.
The net gain of the stripped-back approach with Windows 10 S is speed, with the power-to-login time shown to be roughly 15 seconds in a live demonstration – faster than the standard Windows 10 Pro experience.
Microsoft announced that Windows 10 S will arrive in summer 2017 on a range of partner-built laptops starting from $189 (£149) that will be focused on education. The hardware will also include free Office 365 and Minecraft subscriptions for schools.