Former National Security Adviser Susan Rice is pushing back against "false" allegations that she attempted to improperly "unmask" the identities of Donald Trump's associates who were incidentally included in surveillance reports.
"The allegation is that somehow the Obama administration officials utilised intelligence for political purposes," Rice said to NBC's Andrea Mitchell. "That's absolutely false." Rice maintained that it is not unusual to request the identities of people caught on intelligence surveillance.
The response came following a Bloomberg report on Monday (3 April) suggested that Rice requested the identities of individuals connected to Trump be "unmasked" on dozens of occasions.
"There were occasions when I would receive a report in which a US person was referred to, name not provided, just a US person, and sometimes in that context in order to understand the importance of that report, and assess its significance, it was necessary to find out or request the information as to who that US official was," Rice added.
She continued: "It was not uncommon, it was necessary at times to make those requests. I don't have a particular recollection of doing that more frequently after the election."
According to NBC News, Rice denied reports that she allegedly had a "spreadsheet" detailing phone calls made by Trump campaign officials. "There was no spreadsheet," she said. "There was nothing of the sort."
Rice also refuted that she revealed the name of President Donald Trump's former national security adviser, Michael Flynn, who was sacked after his communications with Russian officials became public. She said she was unaware that Flynn was a lobbyist for Turkey.
"I leaked nothing to nobody and never have and never would," Rice said.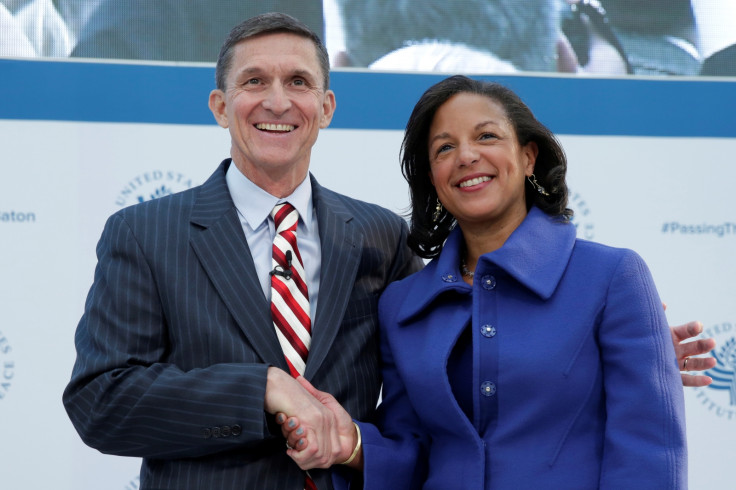 In the crosshairs
Following Bloomberg's report, Republicans have turned their attention to Rice and may even consider interviewing her, The Washington Post reported. Senate Intelligence Committee chairman Richard Burr (R-NC) said on Tuesday (4 April) that he is not ruling out interviewing Rice about the allegations she sought to unmask the identities of Trump's transition team for political reasons.
"If the reports are right, then she will be of interest to us," Burr said. Other Republican lawmakers are hoping the Senate Intelligence Committee will force Rice to testify under oath, the Post reported.
"When it comes to Susan Rice, you need to verify, not trust," Senator Lindsey Graham (R-SC) said to Fox News. "I think every American should know whether or not the national security adviser to President Obama was involved in unmasking Trump transition figures for political purposes."
Senator John McCain (R-AZ), a critic of the Trump administration, was in agreement with his party members, saying the Rice allegation "obviously, it needs to be investigated". However, he cautioned against making premature conclusions, while also noting that the names of other officials would come up.
Did Rep. Nunes know about Rice?
News of Rice's requests come as lawmakers try to better understand why House Intelligence Committee Chairman Devin Nunes (R-Calif.) traveled to the White House the night before claiming that Trump transition officials were caught up in incidental surveillance. Nunes refused to comment on Monday (3 April), about whether Rice was associated to any of the documents he saw at the White House, the Post reported.
However, Rice's requests to unmask the identities of Trump associates still do not support President Trump's 4 March allegations that former President Obama illegally tapped Trump Tower during the campaign. Probes by the intelligence committees in both the House and the Senate have found no evidence to support those claims.