Former president Barack Obama's national security adviser Susan Rice requested the names of President Donald Trump's transition and campaign associates in raw surveillance intelligence reports on numerous occasions, it has emerged.
White House lawyers learned of the activity in February, Bloomberg View reported when breaking the story on Monday (3 April).
Rice's requests were discovered during a National Security Council review of the government's policy on "unmasking" the identities of US citizens whose communications and information are incidentally collected during surveillance. Bloomberg View noted that those names are normally redacted in reports and appear as "US Person One" or something similar.
Two US officials who spoke to Bloomberg View on condition of anonymity said that the National Security Council's senior director for intelligence, Ezra Cohen-Watnick, conducted the review in February.
The director brought his findings to the attention of the White House General Counsel's office, who reviewed Rice's requests and ordered him to end his own research into the unmasking policy.
According to The Hill, some of the conversations monitored during the Obama administration included information on who the Trump team met with, the foreign policy views of some Trump associates and plans for the incoming administration.
Rice did not respond to Bloomberg's request for comment, but denied having knowledge about any information being incidentally collected on Trump transition officials last month, The Hill reported.
"I know nothing about this. I was surprised to see reports from [House Intelligence Committee] Chairman [Devin] Nunes on that account today," she said on PBS NewsHour.
The House and the Senate intelligence committees are conducting probes into any ties between Trump associates and a Russian campaign to influence the presidential election in Trump's favour. Nunes' House Intelligence Committee is also investigating the Obama administration's efforts to keep track of the Trump transition.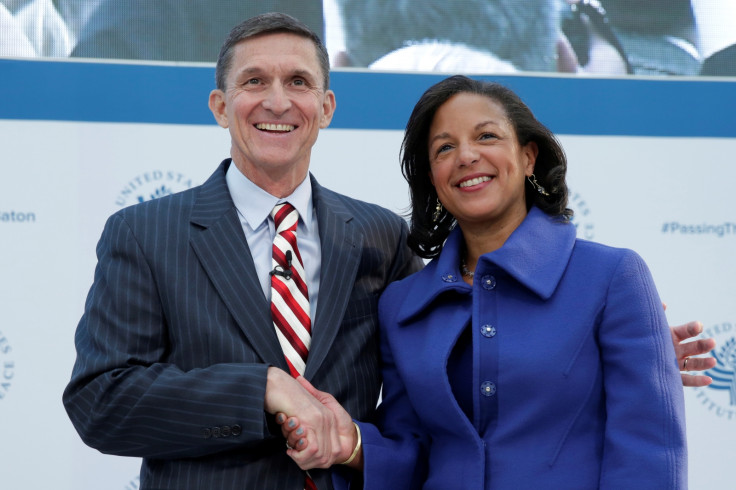 News of Rice's requests does answer some of the questions posed over Nunes' actions last month. The California Republican travelled to the White House the night before alleging that Trump transition officials were caught up in incidental surveillance. Nunes was criticised for his actions, with several Democrats calling for him to step down as chair.
Representative Adam Schiff, the ranking Democrat on the committee, viewed the reports on Friday (31 March), according to Bloomberg. He declined to discuss the contents of the reports to the press, but noted it was unusual for the reports to only be shown to Nunes and not other members of the committee.
Rice's requests to unmask the identities of Trump associates, however, do not back up the president's allegations on 4 March that former President Obama illegally tapped Trump Tower. Congressional probes have not found any evidence to support Trump's claims.