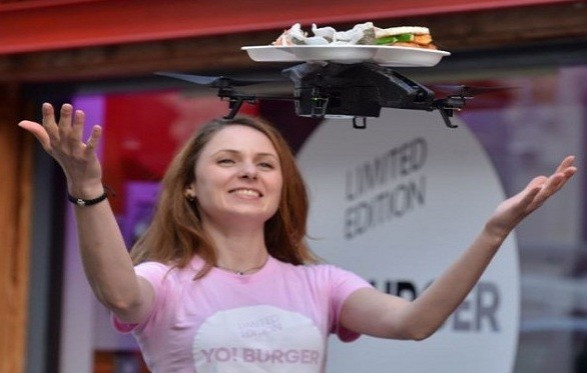 Drones are most famous for delivering devastating firepower to enemy targets - but what about serving up dinner?
Oriental food chain Yo Sushi has rolled out its own force of remote-control aircraft to bring dishes to diners' tables in central London.
The flying waiters, which are controlled by iPad, could be used inside and in the open air - and will be capable of speeds of up to 25mph.
The 'iTrays' should also be nippy enough to evade any passing bird which takes a fancy to the culinary contents of an airborne bowl.
However there is also the terrifying prospect of a mid-air collision, in which a pile of noodles falls from the skies onto an unfortunate person's bonce.
A Yo Sushi spokesperson said the practice was still in the testing stage. She said: "We would not recommend serving food at [the drones' maximum] speed."
Robot crazy
The novel concept is the latest far-out idea by the fashionable restaurant chain, which has previously used robots to serve drinks.
"We started testing it out last Friday and we are making sure it works. If it does then we will implement it" the spokesperson continued.
However there is as yet no date for a general roll out of the technology across the Yo Sushi chain.
"At the moment it's very much in the testing phase. We've not got a set date for rolling it on. We need to be very careful about using it in restaurants," the spokesperson added.