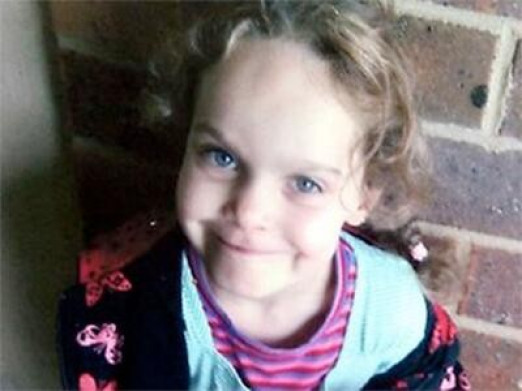 A mother who killed her six-year-daughter and stuffed the body in a suitcase for days before setting fire to it has been sentenced to a minimum of 16 years in jail.
Kristi Abrahams, 30, pleaded guilty to beating her daughter Kiesha Weippeart to death in July 2010 after years of physical abuse. Angry scenes broke out in the Sydney courthouse at what was regarded as too lenient a sentence.
"[Abrahams] caused the death of [Kiesha] with the infliction of a violent, lethal force on what was a vulnerable and defenceless child in her care," Justice Ian Harrison told Sydney Supreme Court.
"Rot in hell!" someone shouted from the public stands as Abrahams was led out of court.
"She knew what she was doing. It's just a cop-out. Kiesha was killed by a cold-blooded murderer," said Alison Anderson, who was also in the public gallery.
The maximum sentence of 22 and half years was reduced because of the mitigating circumstances of the defendant's intellectual disability, Harrison said.
He told the court that the crime was an impulsive and uncontrolled act of violence and that Abrahams, who had also been an abuse victim during her childhood, showed remorse and was unlikely to offend again.
Abrahams told an undercover police officer that she hit Kiesha because the child would not put on her pyjamas.
Abrahams and her partner Robert Smith kept the body in a suitcase in their Mount Druitt home in western Sydney for a few days before taking it to the bush where they burnt it and buried the remains in a shallow grave.
A few weeks later Abrahams reported her daughter as missing.
Abrahams and Smith were arrested nine months later. Smith pleaded guilty to manslaughter and accessory to murder and was sentenced to a maximum of 16 years' jail.
An autopsy revealed Kiesha had suffered repeated abuse in the months prior to her death with 10 injuries to her head, jaw and body discovered.
''Although the evidence establishes [Abrahams] had been short-tempered with [Kiesha] in the past and she was not coping the evidence is insufficient to establish beyond reasonable doubt that the offender had previously caused the injuries of the deceased,'' Justice Harrison said.
Several abuses, including a bite and a cigarette burning, were reported to child protection services, which failed to take concrete action, the trial revealed.
"It's finally over and done with and she [Abrahams] can sit there and rot," Kiesha's grandmother, Liz Weippeart, said.