Sydney siege: Gunman 'forces' hostages to show jihadist banner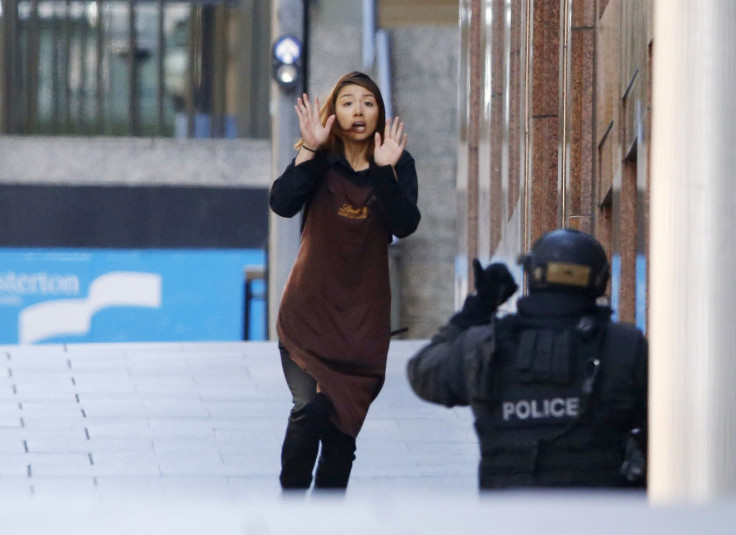 A gunman who has taken an unknown number of hostages at a Sydney cafe apparently forced two of them to hold up an Islamist flag similar to those used by jihadist groups, as police said they believe the attack was an act of terrorism.
Photos from the scene showed two female hostages holding a black flag containing an Islamic declaration of faith, against a window of the Lindt Chocolat Cafe in central Sydney.
The banner is known as Shahada and contains the words: "There is no god but the God, Muhammad is the messenger of God", a common expression in the Muslim world that has however been seized upon by some extremist groups, including the al-Qaeda-linked Jabhat al-Nusra in Syria.
It is different from the Isis flag.
Police said they were considering terrorism as a possible motive for the attack at the café.
"We have moved to a footing that would be consistent with a terrorist event," said Andrew Scipione, police commissioner for the state of New South Wales, Reuters reported.
Isis-related symbols are banned in Australia. Earlier this year, anti-terror officials carried out a number of raids in a crackdown on Isis sympathisers.
It was not clear how many people remained inside the cafe located at Martin Place, central Sydney. Three hostages have emerged.
"We do not have any information that suggests that anybody is harmed at this stage," New South Wales Police Deputy Commissioner Catherine Burn said.
Follow IBTimes UK live coverage of the Sydney café siege here.
© Copyright IBTimes 2023. All rights reserved.