Key information:
Gunman identified as Sheikh Man Monis, a 49-year-old Iranian cleric who was well known to Australian authorities.
Police have confirmed that siege is over after more than 16 hours
Gunman and one hostage are believed to have been killed
Police used live ammunition and loud bangs have been heard
Earlier, some hostages were seen waving black and white flag with Arabic text reading: "There is no God but Allah, Mohammed is the messenger of God."
All times are in GMT.
23:57 #illridewithyou is trending with over 350,000 tweets as a show of support for Muslim Australians in the aftermath of the siege.
23:40 New South Wales state police Commissioner Andrew Scipione refused to say whether the two hostages who were killed — Barrister Katrina Dawson and cafe owner Tori Johnson — were caught in crossfire, or shot by their captor.
22:51 Barrister and mother-of-three Katrina Dawson was the female hostage killed in the Sydney cafe siege.
21:48 Australian PM Tony Abbott releases statement: "These events remind us that Australia is vulnerable to political violence".
19:15 Mother of a hostage who was trapped in the Sydney cafe told how she got a text message from her son. Speaking to a radio station in Australia, she said: "My heart just dropped... and I sent back a text message and said what's going on, are you okay? And he just sent me back a message saying 'I'm okay mum, can't talk.'
"And... left it at that and I haven't heard anything since then."
18:56 No explosive devices have been found at Lindt cafe.
18:55 Armed commandos moved in after gunman shooting hostages.
18:51 17 hostages accounted for, two deceased and four injured. Lone gunman shot dead, one police officer injured in fire fight, say New South Wales police.
18:47 Police press conference beginning
18:46 Sydney police confirm 38 year-old woman and 34 year-old man, both believed to be hostages killed.
18:25 Unconfirmed reports a second hostage has died.
17:22 There will be a police press conference at 5.00am AEDT (6 pm GMT).
17:19 One woman "in serious, but stable condition" is being treated at Royal North Shore hospital.
16:45 Sky News is also reporting two dead, including gunman. NSW police declined to comment on the report.
Australia's channel 9 has the same report:
16:28 The gunman's former lawyer, Manny Conditsis, told Australian Broadcasting Crop. that "this is a one-off random individual" not a concerted terrorism event:
"It's a damaged goods individual who's done something outrageous. His ideology is just so strong and so powerful that it clouds his vision for common sense and objectiveness"
16:22 BBC's security correspondent Frank Gardner reported that the assault team that stormed the cafe was the Tactical Assault Group, Australia's top military counter-terrorism unit.
16:18 Australian paramedics are doing an incredible job treating injured hostages. Here's a picture from their Twitter handle:
16:13 Another incredible picture of hostages running out of the the Lindt cafe with their hands up: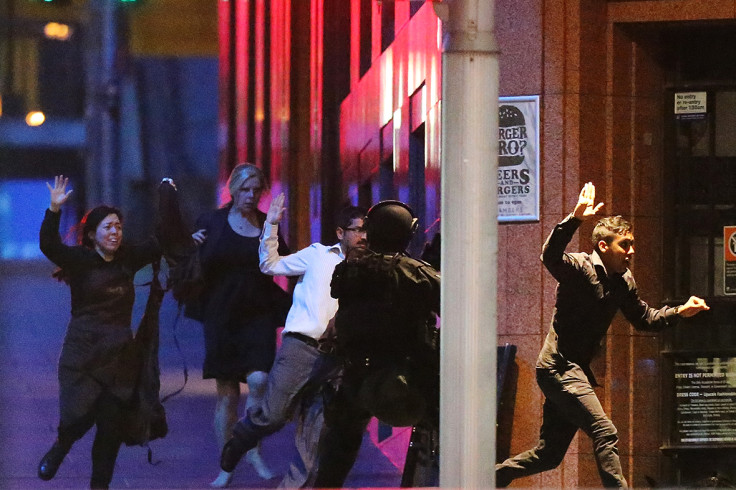 16:05 Australia's 7News is reporting two dead, possibly including gunman and three other people injured and in serious condition. No official confirmation from police.
16:02 Sky News has tweeted a clip of the moment heavily armed police threw flash grenades into the Sydney cafe to break the siege:
15:55 Dramatic picture ofPolice rescue personnel carrying an injured woman from the Lindt cafe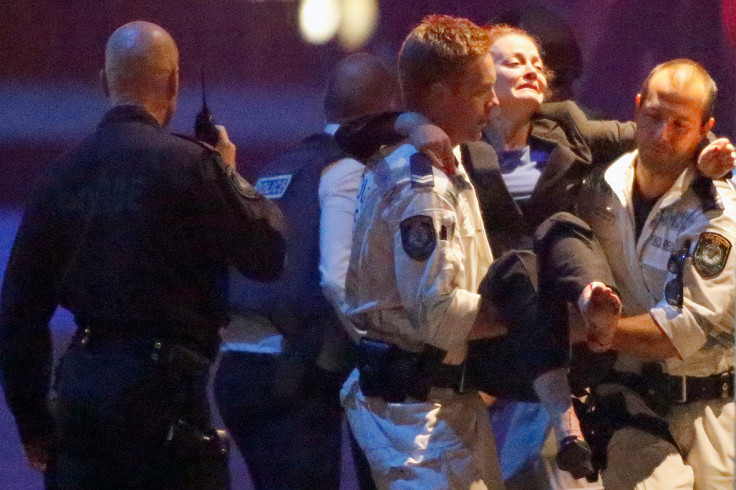 15:53 NSW police say they cannot confirm reports that two people have died in the siege.
15:48 Police have confirmed that the siege has ended. Number of casualties unconfirmed. Fate of gunman unclear.
15:45 Seems like the siege is over, after more than 16 hours. Tweet by NSW police:
15:42 Reports of CPR given to at least two persons. Unknown whether they are hostages at this time.
CNN is reporting that there are 7 people left on stretchers, 5 receiving immediate treatment.
15:40 - Conflict News tweets:
15:36 - Police have confirmed that the siege is over, the Sydney Morning Herald reports.
15:35 - Unconfirmed reports that the gunman, Man Haron Monis, has been shot dead by police circulating on Twitter.

15:31 - AP reports on the unfolding police operation:
A flurry of loud bangs erupted as a swarm of heavily armed police stormed inside a downtown Sydney chocolate cafe where a gunman had been holding an unknown number of people hostage for more than 16 hours.
The police swooped in shortly after five or six hostages were seen running out of the Lindt Chocolat Cafe in downtown Sydney early Tuesday morning. One weeping woman could be seen being carried out of the officers.
15:28 - Reports that the gunman is down, as a bomb disposal robot is seen entering the premises.
15:25 - At least four people have been wounded as heavily armed police stormed into the café, according to reports. Paramedics are at the scene.
15:20 - A distraught, maybe injured, female hostage has been carried out by security forces.
15:17 - Police have stormed into the café. Live ammunition is being used.
15:12 - The BBC reports that a loud bang is heard coming from the café.
15:11 - Several other hostages have reportedly managed to flee the café.
15:06 - Here is a photo of the alleged hostage-taker, Man Haron Monis, addressing media after his sentencing to community service for sending offensive letters to the families of fallen Australian soldiers between 2007 and 2009.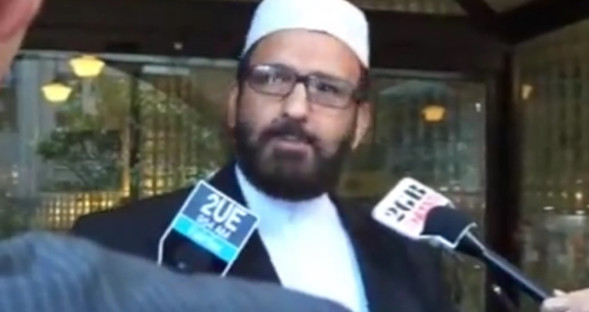 Read a profile of Monis here.
14:48 - Read our latest article on the breaking news of the Sydney siege gunman's identity here: Sydney cafe siege gunman is 'sex offender' identified as Iranian 'sheikh' Man Haron Monis
14:43 - More pictures are emanating of Sheikh Man Monis.
14:38 Speaking on BBC World Service, Adam Dolnik, hostage negotiator said the fact the gunman is alone and tired after at least 15 hours inside the Lindt cafe may prove to benefit the negotiators.
"If he's alone then he cannot take turns guarding hostages, cannot rest, so as long as this incident stretches out he will become so fatigued that from high-level demands he will start looking for a way out."
14:33 Man Moris is currently serving bail for a number of offences, according to the BBC. He also allegedly wrote to Australian Prime Minister Tony Abbott that "Australia and Australians will be attacked" if no policy changed.
14:29 More details about Man Monis. On his website, he compared himself to Wikileaks founder Julian Assange and posted the quote: "I used to be a Rafidi [Shia Muslim], but not any more. Now I am a Muslim, Alhamdu Lillah".
14:16 Details of Man Monis' history continue to be revealed now his identity is out in the open. Last year, he was charged with being an accessory to the murder of his ex-wife and mother of two children.
More recently, he was charged with over 50 allegations of sexual assault during his time as a "spiritual healer" who dabbled in black magic in western Sydney.
14:13 It has emerged that seven years ago, Man Monis wrote "poisonous letters" to the families of dead Australian soldiers, according to the Sydney Morning Herald (SMH).
14:07 One of the first photos to emerge of Sheikh Man Monis, the cleric behind the Sydney siege.
14:04 We can now confirm that the gunman behind the Sydney siege is Sheikh Man Monis, a 49-year-old Iranian cleric.
13:57 The identity of the gunman behind the siege in Sydney has been released on social media. We are waiting for confirmation that we can release this information before publishing.
13:35 ABC journalist at the scene, Nick Dole, has tweeted that a large group of ambulances and fire trucks has amassed near Martin Place in preparation of any eventuality.
12:50 - A series of videos purportedly showing several hostages in the café reading out the gunman's demands have been posted on YouTube.
Australian authorities have asked the media not to disclose the hostage-taker's requests as negotiations are underway.
12:41 - Here is a timeline of events in Sydney provided by the Associated Press. Times are in Australian Eastern Time Zone (UTC+10:00)
9:45 a.m. — Police are called to Lindt Chocolat Cafe in Sydney's Martin Place, a busy plaza in the heart of the city. Initial reports suggesting it could be an armed robbery are soon ruled out.
10:10 a.m. — Australian television stations broadcast images of hostages inside the cafe with their arms in the air and hands pressed against the window. Shortly after, two hostages appear at the window holding a black flag with white Arabic script.
10:30 a.m. — Armed police line up outside the shop. Nearby buildings are evacuated.
12:30 p.m. — Prime Minister Tony Abbott goes on national television and pledges that the police response will be thorough for what he calls "a deeply concerning incident."
About 4 p.m. — Three men escape from the cafe's fire exit and run toward police. One is wearing a Lindt cafe apron and appears to be an employee.
About 5 p.m. — Two women sprint from the same side door and run into the arms of police. Both are wearing Lindt aprons.
6 p.m. — Prime Minister Abbott says the gunman has claimed "political motivation," but makes no reference to concerns of a terror plot.
6:30 p.m. — Police Deputy Commissioner Catherine Burn says police are conducting a "sensitive negotiation" that requires discretion. She declines to say if direct contact has been made with the gunman, or specify the number of hostages held or any operational tactics.
8:15 p.m. — Police Commissioner Andrew Scipione says the priority of police is getting everyone out safely. He declines to speculate on the gunman's motives or possible terror link.
9 p.m. — Lights inside the cafe are switched off. Police outside put on night googles.
12:35 - The US Consulate in Sydney, which is located in Martin Place, near where the hostage crisis in unfolding, said it will remain closed to the public tomorrow, Tuesday, December 16.
US citizens are reminded to remain aware of your surroundings including local events, and monitor local news stations for updates. Maintain a high level of vigilance and take appropriate steps to enhance your personal security.
If you are a U.S. citizen in need of urgent assistance, the emergency number for the U.S. Consulate General in Sydney is +61-2-4422-2201.
12:27 - Police have urged citizens in Sydney: "to go about their business as usual tomorrow" as midnight approaches in NSW.
Here are a few extracts form police latest press release, which you can read in full here.
Officers will continue to maintain a perimeter around a cafe at the corner of Martin Place and Elizabeth streets overnight where a man is holding a number of hostages.

Traffic and Highway Patrol police have cordoned-off parts of Hunter, Macquarie, King and Elizabeth streets.
Deputy Commissioner Catherine Burn has commended the public for its patience during the crisis.
You, the community, made our job much easier than it could have been.

We only hope that co-operation and understanding continues tomorrow as we work to bring about a peaceful resolution to this situation.
12:22 - The Channel 7 journalist Chris Reason, who has a view of the premises, tweets there is very little movement at the Lindt Café at the moment. In Sydney the time is 11.22pm.
12:19 - Australian lawmaker Malcolm Turnbull tweets:
12:16 - Australia's Ambassador to Israel, Dave Sharma, tweets:
12:03 - A Twitter campaign against Islamophobia in the wake of the hostage crisis has gone viral, with thousands of netizens expressing their solidarity with Australian Muslims.
A woman started the hashtag #IllRideWithYou pledging to accompany Muslims wearing religious attire on public transportation to defuse potential episodes of intolerance.
The hashtag was taken up by thousands of netizens and was mentioned more than 40,000 times in a few hours, trending globally in the morning.
To read more and check out some of the tweets click here.
12:01 - The unfolding hostage siege in Sydney is part of a growing trend of "small scale, lone actor" terrorism across the Western world, according to The Henry Jackson Society.
The thinktank told IBTimes UK that the terrorist threat is "always there" in the West and governments are "having to weigh up how best to deal with it".
Read more from our reporter Ian Silvera here.
12:00 - In this photo police push back a member of the public who tried to get into a building located near the Lindt cafe.
11:54 - Here is a map of the exclusion zone in force in the area affected by the hostage crisis released by the NSW government.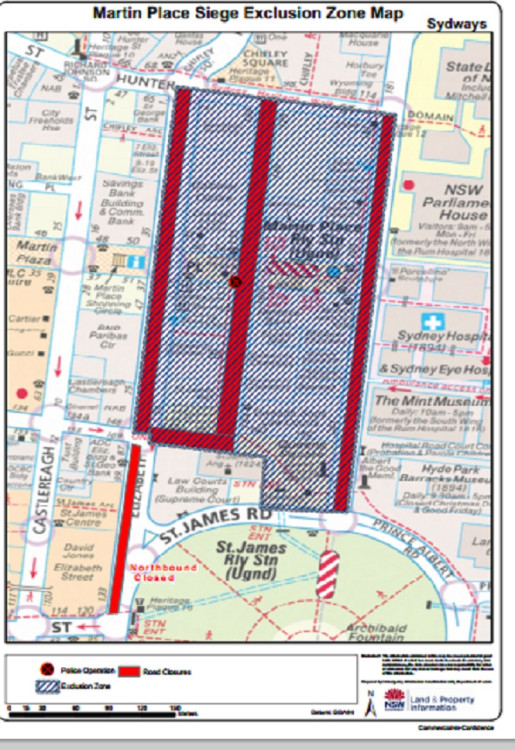 The government said:
The NSW Government wants to send a clear message to the people of Sydney – when you wake up tomorrow morning, go about your normal business.

There will be some necessary changes.

An exclusion zone will continue to operate around Martin Place bordered by Elizabeth St, St James Road, Macquarie St and Hunter St.

If you work in this exclusion zone, please work from home unless otherwise advised.
11:48 - Authorities have named two of the five hostages who managed to flee form the café as lawyer Stefan Balafoutis and Lindt Cafe employee Elly Chen, The Australian newspaper reports.
10: 25 - Lights switched off at the Lindt cafe while the police personnel are standing next to the fire door, from which the hostages came out earlier.
10:15 - Here's the exclusion zone announcement for Sydney over Lindt cafe siege.
10:00 - There are reports coming in suggesting four armed men have stormed an apartment in Ghent, Belgium taking a hostage. Specials forces are being deployed to handle the situation.
It is still unclear whether the Belgium siege has any connection to the to the Sydney incident.
09:45 - It's 20:45 in Australia and the siege situation remains the same. Authorities are discussing the possibility of stand-off extending into the next day.
09:40 - The #illridewithyou Twitter hashtag is trending in Australia. Non-Muslims have offered to travel alongside Muslims if they fear of any reprisal attacks in public transport.
Earlier, the police commissioner made a strong call against such attacks. "Clearly reprisal attacks are something that should not happen. At this stage, we need to let everyone just settle down."
We want people to remain calm."
09:25 - Scipione however denies to pinpoint the motives of the gunman and says it is still under investigation. When questioned about the attacker's motive, he said: "We are not in the business of speculating, we are in the business of investigating."
"We will continue this investigation, we will get to the bottom of it and at this stage, all I can assure you, we are doing absolutely all we can and we will do even more to guarantee the safe release of these people."
09:22 - On the issue of the hostages contacting the media, the commissioner says: "If people are being contacted by hostages, particularly the media, we would ask that you put those people and ask them to ensure that the man inside speaks to police, speaks to our trained negotiators."
"They are the people that can resolve this, that can help them in this situation."
"Certainly they are available and would be looking to talk to the man that has got control of that particular building right now."
09:20 - Commissioner Andrew Scipione opens his remarks by saying "Can I start by saying our plan, our only goal tonight and for as long as this takes, is to get those people that are currently caught in that building, out of there safely. That remains our number one priority and nothing will change."
09:15 - NSW premier Mike Bird addresses media. Bird says: "I'm certainly proud of how we have responded as a city, state and a nation – but my thoughts remain with those that are caught in this event. And my call goes out to the state to pray for them, to pray for their families."
"Earlier tonight the commissioner and I also had a conference call with the Islamic leaders. They expressed their full confidence and support with what the NSW police are doing, and the commissioner and I thank them for it."
We are in this together."
09:00 Also, take a look at the dramatic images of the hostages fleeing the cafe.
08:55 - NSW police commissioner Andrew Scipione and premier Mike Bird are to set to address a joint press conference shortly.
08:50 - Police said to have identified the gunman and he is already known to authorities.
08:35 - The armed gunman fashions himself as 'The Brother' and claims planting four bombs - two inside the cafe and two more in unknown locations, Jack reports.
Nearly 50 Muslim groups have jointly released the following statement condemning the Sydney cafe siege.
"Our immediate thoughts go to the hostages and their loved ones. We pray for their safety and hope this matter is resolved quickly and peacefully. We reject any attempt to take the innocent life of any human being or to instill fear and terror into their hearts."
"Any such despicable act only serves to play into the agendas of those who seek to destroy the goodwill of the people of Australia and to further damage and ridicule the religion of Islam and Australian Muslims throughout this country. We remind everyone that the Arabic inscription on the black flag is not representative of a political statement, but reaffirms a testimony of faith that has been misappropriated by misguided individuals that represent no-one but themselves."
08:30 - The NSW police activate Task Force Pioneer in the anti-siege operation. The Force is activated usually in terror attacks.
08:20 - Here's my colleague Umbertos' report on gunman forcing the hostages to show jihadist banner.
08:15 - A quick summary of what we know so far.
The siege began at about 09:45 am local time when a gunman stormed the Lindt Cafe in Sydney's Martin Place immediately following which the public called the police.
The exact number of hostages remains unclear – the police said it is less than 30.
Five hostages have been released since the siege began and hundreds of police are the scene.
The police are currently negotiating with the perpetrator but authorities are neither officially divulging details of his demands nor his motives.
08:00 - An inter-faith vigil is set to take place at the Lakemba mosque tonight at 20:00 local time. Several other mosques, churches, and synagogues are also to remain open tonight inviting the public to pray.
07:45: NSW deputy commissioner Catherine Burn: "We have been in contact throughout the day in various forms and it's an important part of our negotiation that we do not talk about some of the tactics or information that is being passed but this is a very, very well-tested system of negotiation that we use, it is world class and it might take a little bit of time but safety of those people inside is what is paramount."
07:38 - She adds: "Our approach is to resolve this peacefully. It might take a bit of time but that is our approach."
"We will be working into the night if this situation continues, and we will be looking at arrangements for tomorrow, but the message at the moment is that you should continue your business as usual."
07:36 - Burn says: "We know that there are people who are being held in the building in Martin Place and we are aware that there is a person who is armed also in the premises."
"What we are seeing now is this unevolving as a negotiation that the NSW Police is undertaking with the person who is in the premises."
07:35 - Burn addresses media. This is the second time she is talking to reporters since the siege began.
07:25 - Prime Minister David Cameron writes in his Twitter account: "I was briefed overnight on the siege in Sydney. It's deeply concerning and my thoughts are with all those caught up in it."
Here's Canadian PM Stephen Harper's tweet.
07:20 - As the siege enters its ninth hour, journalist Chris Reason tweets how the gunman looks.
07:10 - Prime Minister Tony Abbott issues this latest statement.
"This is a very disturbing incident.It is profoundly shocking that innocent people should be held hostage by an armed person claiming political motivation. Nevertheless, I can say that NSW Police and other agencies have responded to this incident with great professionalism."
"Throughout the day, there has been nothing but complete and total cooperation between different governments and different agencies. You can be proud of the way your police and security bodies have responded to the events of this day."
07:00 - Armed gunman reportedly demands speaking to Prime Minister Abbott. According to local media outlets, citing escaped/freed hostages, attacker demands Islamic State [Isis] flag being brought to the cafe as well.
This is yet to be formally confirmed.
Reports also suggest two bombs placed inside cafe and two more explosives somewhere outside.
06:50 - Prime Minister Abbott is expected to make a short statement shortly, subsequent to his National Security Committee of Cabinet meeting.
06:45 - While the siege is on, some onlookers photographed taking selfies in Martin Place outside the cafe; a few others seen drinking beer.
06:40 - Sydney Theatre Company also cancels tonight's performances.
06:35 - Crowd is gradually swelling outside the cafe in Martin Place with more and more people trying to catch a glimpse of the ongoing siege.
06:30 - Counter-terrorism expert Nick O'Brien tells ABC News 24 in an interview: "If this had just been a siege-hostage situation, then really it wouldn't have gone global, but because of that black flag and because of the terrorist implications ...this is going to be the top news story all around the world."
"So that person has achieved what he wanted to do.I'm sure when he went into that cafe this morning, he had a plan and part of that plan was to get worldwide publicity for what he was about to do, and he succeeded."
06:20 - NSW deputy commissioner Catherine Burn is set address another press conference shortly, to give an update.

Dramatic pictures of hostages emerging from the cafe splashed across local television channels.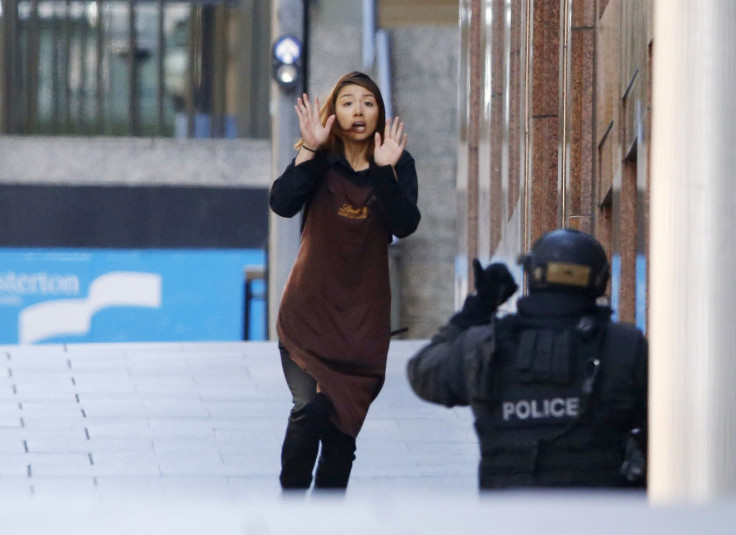 06:05 - Local reports suggest police are working with the escaped/freed hostages while dealing with hostage crisis.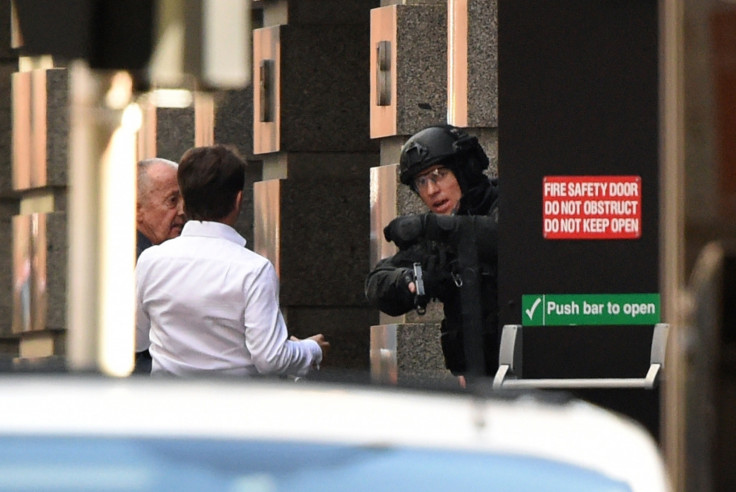 06:00 - Two more, both women, flee cafe bringing up the total of escaped/freed hostages to five. Both women are thought to be cafe staff.
05:50 - Helicopters seen hovering above Sydney alongside the police operation dealing with the siege.
05: 45 – Australia's National Imam Council earlier released a statement condemning the siege. In a joint statement along with the Grand Mufti, the council said: "The Grand Mufti and the Australian National Imams Council condemn this criminal act unequivocally and reiterate that such actions are denounced in part and in whole in Islam."
"His Eminence the Grand Mufti, the Australian National Imams Council and the Muslim community express their full support and solidarity with their victims and their families and aspire to a peaceful resolve to this calamity."
05:30 – A man shouting anti-Islam remarks just outside the cafe where the siege is taking place removed by the police. He is identified as a leader of local anti-Muslim group.
05:25 – The Sydney Opera House cancels all performances scheduled for today in the wake of the cafe siege. You can read their statement here.
05:15 - Australia's National Security Committee of Cabinet comprising the prime minister, foreign minister treasurer, immigration minister, defence minister currently holding video conference over hostage situation.
05:10 - "Police negotiators have had contact and they continue to have contact and we will work through this as we do, with our negotiators," says deputy commissioner Burn.
05:05 – Police refuse to confirm whether the hostages were freed or escaped. Says Burn: "The information that I have is that nobody has been harmed or injured at the moment."
When further pressed about the number of hostages, Burn does not give an exact figure but says it is "not as high as 30".
"We clearly are dealing with a situation that is unfolding and it's happening as we speak and the most important thing is the safety of those hostages and I wouldn't want to do anything that may impact on the safety of those hostages."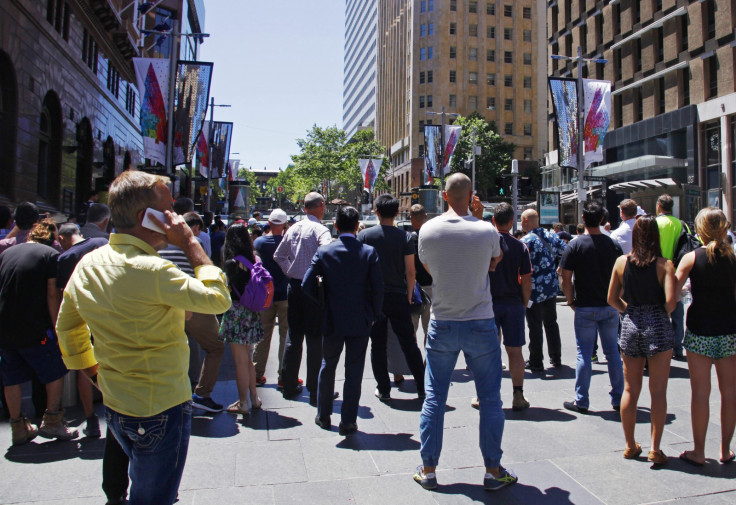 05:00 – Police confirm three people escape from cafe as dramatic events unfold.
"A peaceful resolution will be what we are working for," says Burn in latest press conference.
Burn adds it is still unknown whether any of the captives are harmed inside the cafe.
When asked about the number of people held hostage, she said: "Those operational details will be forthcoming but its not a good time to speculate."
"Police negotiators have had contact and they will continue to have contact."
04:40 – At least three people seen fleeing cafe. One of them said to be a cafe staff while the other two are believed to be customers.
It is still unclear whether the hostages managed to escape or were freed.
04:30 – Leaders from across the world express solidarity with Australia over hostage situation. Leaders from Canada, India, New Zealand condemn attack.
04:25 – New South Wales police commissioner Andrew Scipione, while commenting on the flag which was waved from window of the cafe, said: "Again, it's a flag that we've had people looking at. We're trying to work out what it stands for but at this stage it's probably best that I don't take that any further. We're working with our partner agencies to better determine what it is we're dealing with there."
04:20 – The UK Foreign Office issues short statement. "We are aware of the hostage situation in Martin Place in Sydney and are in touch with the authorities."
04:15 – Australian authorities brief US President Barack Obama on the latest situation pertaining to the hostage crisis.
Senior White House officials confirm Obama's top counter-terrorism adviser Lisa Monaco updated the president on the events. An official statement is awaited.
04:20 – Lindt Chocolate Cafe Australia issues following statement via its Facebook page.
"We would like to thank everyone for their thoughts and kind support over the current situation at the Lindt Chocolate Café at Martin Place. We are deeply concerned over this serious incident and our thoughts and prayers are with the staff and customers involved and all their friends and families. The matter is being dealt with by the authorities and we are waiting for any updates from them."
04:05 - Australian Prime Minister Tony Abbott urges calm as the siege enters its fifth hour.
Here's Abbott's press conference on the crisis in which he said the attack has indications it could be politically motivated.
04:00 - Here's the IBTimes UK's live coverage of the Sydney siege in which several people have been taken hostage. Catch all the latest news.