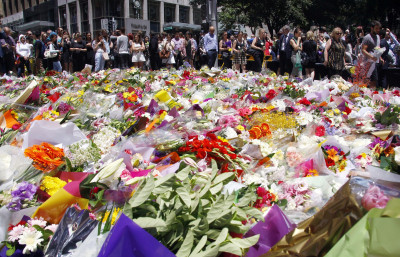 An Australian man who died in a siege at a Sydney café has been hailed a hero, amid reports he was killed while trying to disarm the gunman and save fellow hostages.
Tori Johnson, 34, the manager of the Lindt Chocolat Café in Martin Place that was attacked by a lone gunman, was one of two hostages killed in the final stages of the 16-hour ordeal.
Police have not confirmed whether the victims were caught in crossfire or shot dead by the attacker, identified as self-styled sheikh Man Haron Monis.
Early reports however suggested Johnson was fatally wounded as he attempted to snatch the attacker's shotgun.
"Reports have emerged this morning of the heroism of the male victim of this siege," Sydney Archbishop Anthony Fisher told a prayer service at the city's St Mary's Cathedral, AFP reported.
"Apparently seeing an opportunity Tori Johnson grabbed the gun - tragically it went off killing him.
"But it triggered the response of the police and eventual freedom for most of the hostages," the archbishop said.
Katrina Dawson, a 38-year-old mother-of-three and the gunman were also killed as police stormed the premises, freeing the remaining hostages.
Johnson's family and friends paid tribute to his bravery.
"We are so proud of our beautiful boy Tori, gone from this earth but forever in our memories as the most amazing life partner, son and brother we could ever wish for," his parents said in a statement released via reporter Ben Fordham.
"We feel heartfelt sorrow for the family of Katrina Dawson."
"We'd like to thank not only our friends and loved ones for their support, but the people of Sydney; Australia and those around the world for reaching out with their thoughts and prayers.
"Our deepest gratitude to the NSW police, armed forces and paramedics for their tireless efforts," they said.
Monis, an Iranian native known to police for a series of alleged offences, including being accessory to the murder of his wife, burst into the Lindt Cafe, on Monday morning and took 17 people inside as hostages.