Syria Civil War: 'Cannibal' Commander Abu Sakkar Ate Soldier's Heart
Video depicting Farouq Brigade leader cutting heart out of Assad soldier's body posted online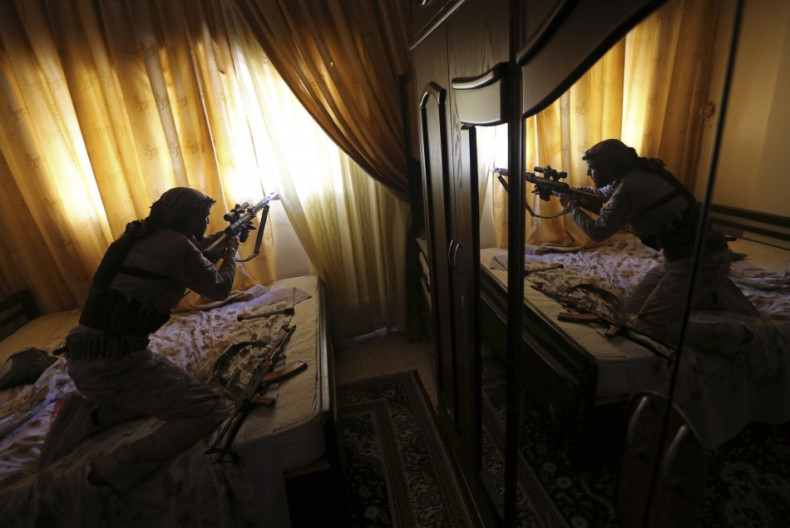 Human Rights Watch has confirmed that a man shown in a video cutting the heart out of a soldier's body and biting it was a Syrian rebel commander.
In the footage posted online by a pro-Syrian regime group, a man wearing military gear is seen knife in hand slicing parts of a dead soldier's torso before turning to the camera and putting the heart in his mouth.
"I swear we will eat from your hearts and livers, you dogs of Bashar," the man says referring to supporters of President Bashar al-Assad. "Allahu akbar (God is great)," comes an offscreen reply.
According to Peter Bouckaert of the New York-based human rights watchdog, the man is Abu Sakkar, a founder of the rebel Farouq Brigade.
Sakkar's identity was confirmed by rebel sources in the city of Homs and by images of him in other videos.
"The mutilation of the bodies of enemies is a war crime. But the even more serious issue is the very rapid descent into sectarian rhetoric and violence," Bouckaert told Reuters.
In a part of the video that has been edited out from the online version Sakkar is heard telling his men to "slaughter the Alawites and take their hearts out to eat them", Bouckaert said. The authenticity of the video cannot be independently confirmed.
The Assad family is from the minority Alawite sect, an offshoot of Shi'ite Islam. The rebellion is being led by a majority of Sunni Muslims.
US Time magazine said it obtained the original video in April from rebels fighting in the Homs region.
One hundred kilometres (60 miles) north of Damascus and close to the Lebanese border, Homs has been the scene of some of the bloodiest fighting in the two-year civil war. More than 70,000 people have died in the conflict, according to the UN.