Syrian women are being forced to trade sex for aid, despite UN agencies and other charities saying they maintain a zero tolerance approach to sexual exploitation.
Women and girls in Syria are told they must perform 'sexual services' in order to receive food and other aid distributions, according to a report by the United Nations Population Fund (UNFPA).
The shocking revelation comes after it emerged that Oxfam covered up the fact that its staff sexually exploited young girls in Haiti after the 2010 earthquake.
After the "horrific" sexual exploitation at Oxfam was exposed, International Development Secretary Penny Mordaunt called on all UK charities working overseas to provide "absolute assurances" that they are protecting vulnerable people and passing on complaints to relevant authorities.
This week aid workers told the BBC that sexual exploitation is so widespread in Syria that some women are refusing to go to aid centres as they said people would assume they had offered sex in exchange for the food they brought home.
"Women and girls 'without male protectors', such as widows and divorcees as well as female IDPs (Internally Displaced Persons), were regarded as particularly vulnerable to sexual exploitation," the UNFPA report stated.
"13-year-old girls go to the bakeries to make little money. I know that people exploit those girls sexually in return for buying bread from them. This is very common," one man from rural Damascus told UN investigators.
"The more the girl gives to the distributor, the more aid she will receive," a teenage girl said, adding that "some women have given up receiving aid because of the provocative treatment they receive from distributors."
The exploitation was first reported to agencies three years ago, humanitarian adviser Danielle Spencer told the BBC. She said she heard the allegations from Syrian women living in a refugee camp in Jordan in 2015.
The women told her that male aid workers had offered them aid for sex. "They were withholding aid that had been delivered and then using these women for sex," Spencer said.
The problem was so "endemic" that the women could not go to the distribution centres without being stigmatised, Spencer said. "It was assumed that if you go to these distributions, that you will have performed some kind of sexual act in return for aid," she said.
The more the girl gives to the distributor, the more aid she will receive.
The charity sector has turned a blind eye to allegations of sexual abuse and exploitation taking place in Syria for years, Spencer claimed. "It's been known about and ignored for seven years," she said. "The UN and the system as it currently stands have chosen for women's bodies to be sacrificed."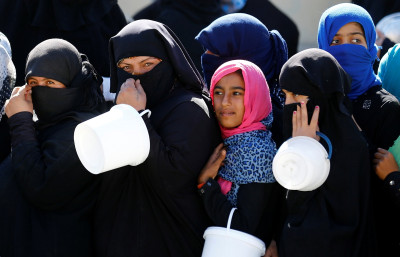 In 2015, UN agencies and international charities organised a meeting to discuss how to tackle the issue. A source who attended the meeting told the BBC that "credible reports of sexual exploitation and abuse going on during the cross-border aid delivery" were presented.
"The UN didn't make any serious moves to address it or end it," the source said.
A recent survey by the Thomson Reuters Foundation found that only six out of 10 global aid agencies were willing to disclose the extent of sex abuse by their staff. Save the Children and Oxfam said they had sacked 16 and 22 staff respectively over the past year.
Medecins Sans Frontieres (MSF) said it had sacked 20 people in 2017 for sexual abuse or harassment.
"We remain very concerned that many incidents are not reported and know that our mechanisms need to be improved," an MSF spokesman said.
A spokesman for the International Committee of the Red Cross (ICRC) described the revelations of sexual exploitation as a "watershed moment" for the charity sector.