A landmine charity championed by Princess Diana has apologised following allegations it failed to sufficiently investigate claims that some of its workers were paying women for sex while abroad.
The Mines Advisory Group (Mag) is the latest British charity to be hit with allegations of sexually inappropriate behaviour, namely complaints that some members were paying prostitutes while working in the Democratic Republic of Congo (DRC).
The Mag scandal is part of an expanding crisis which began with allegations against Oxfam and has engulfed a number of charities working with some of the world's most vulnerable people.
According to reports, Mag were made aware of the allegations of the "habitual use" of prostitutes by staff on at least three occasions between 20011 and 2013.
Speaking to The Sunday Times, a whistle-blower claimed the use of prostitutes among some members was an open secret.
The whistleblower said: "Myself and others raised these issues through proper channels. Some individuals were moved to other country programmes, others stayed. But I was always surprised more wasn't done to stop this behaviour."
The claims follow a similar misconduct scandal at Oxfam in which some if its workers were alleged to have paid women for sex while delivering aid in the wake of the devastating 2010 earthquake in Haiti.
The Red Cross also revealed that 21 staff members have been sacked or quit over sexual misconduct allegations.
A spokesman for Mag said: "In relation to generic allegations of habitual use of prostitutes by Mag staff in DRC it would seem these were not sufficiently followed up at the time as they should have been and we are very sorry about this.
"We deeply regret that these things have happened within our organisation. We've made a wide range of positive changes to our safeguarding policies and procedures in the past few years to strengthen all our approaches and to make it much less likely they will happen again.
"We have robust policies on whistle-blowing and working with vulnerable people. We now have a safeguarding framework and we have reviewed and updated our policies on personal conduct and vulnerable children and adults. We are also improving our whistle-blowing procedures. Our policies expressly forbid the use of sex workers."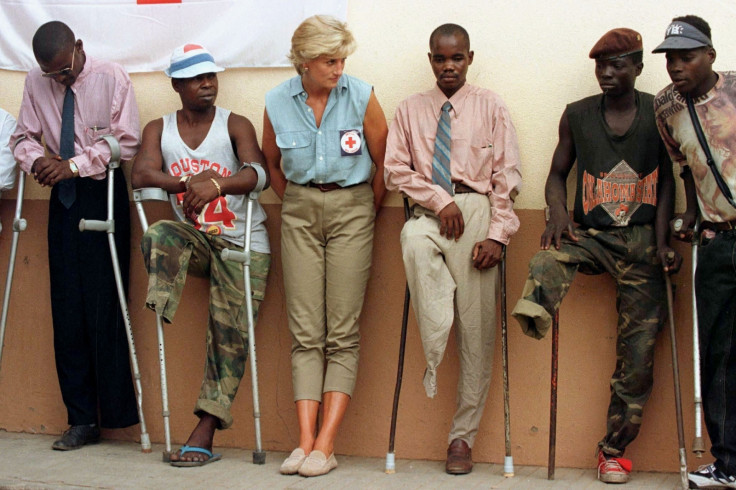 <sup>Note: An earlier version of this article incorrectly linked Princess Diana's work with The HALO Trust in Angola to her work with MAG.