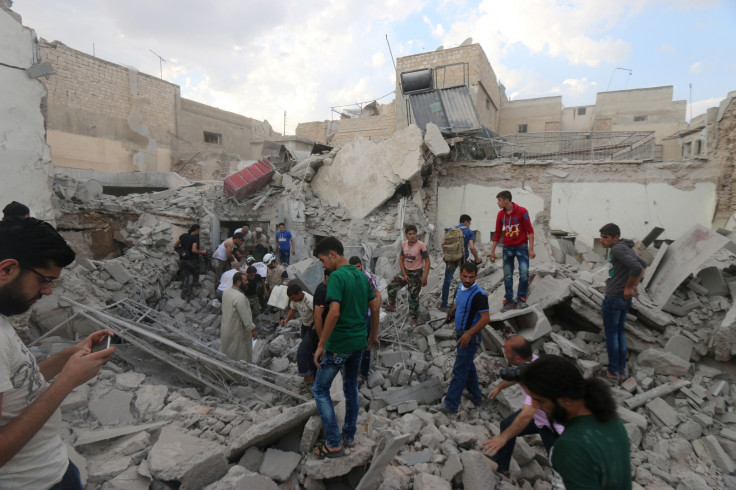 Airstrikes in Syria's Idlib and Aleppo provinces have killed 48 people as clashes escalated between government allies and rebels, despite a three-day truce being agreed to coincide with Eid al-Fitr celebrations.
On the last day of the ceasefire, London-based Syrian Observatory for Human Rights group said that 23 people have been killed in Idlib when the Syrian government — led by President Bashar al-Assad and his allies — attacked the rebel-held town. A further 25 people have been reported dead in an attack launched by the rebels on the government controlled areas of Aleppo city on Friday (8 July).
Darkush area in western Idlib bordering Turkey was also targeted in the airstrikes. The monitoring group said that civilians who were dead and injured had come to the riverside from various nearby towns to celebrate the Muslim festival of Eid al-Fitr.
Ahmad Yaziji, a civil defence chief told Reuters: "It was a terrifying sight because most of the people had fallen into the river next to the spring. There were children, women, and men."
Ten women and two children were among those killed in Idlib, where Al-Qaeda's Syrian affiliate Al-Nusra too operates. It is feared the death toll could rise due to the number of severely injured people.
In Aleppo, among the 25 killed, six were children; more than 120 were injured when the rebels fired dozens of rockets on the region on Friday. Syrian state media has also quoted a similar figure.
This ceasefire was the latest that the Syrian government announced country-wide since the cessation of hostilities was signed by the US and Russia in February. Although the rebels and the government forces agreed to follow the truce, intense clashes were reported leaving no visible changes on the ground, the monitoring group had said. Both the sides have been blamed for the death of the civilians.
The civil defence was the first to respond in Idlib. "The area which was targeted had no military positions in it at all and never had done," Yaziji told the news agency.
The Syrian opposition and the rebels have been fighting in the country against President Assad — who is backed by the Russians — seeking to end his rule. But the rebels also support the government in a separate fight against Islamic State (Isis) militants in the eastern provinces.