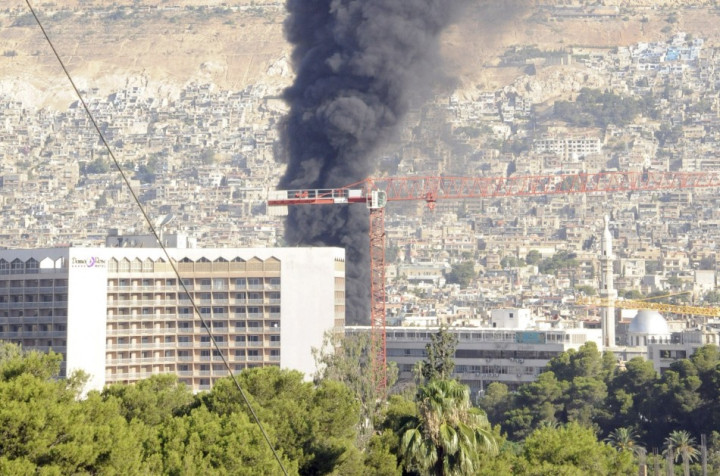 A series of explosions have been reported in Damascus, following a blast near a hotel used by UN observers.
The original explosion occurred near the Dama Rose Hotel, which is also used by the army's high command, when a bomb hidden in a military compound ignited a fuel truck.
According to local reports, the bomb blew out windows in the hotel, and sent clouds of black smoke billowing into the sky. Ambulances quickly arrived to treat those hit by the explosion.
The rebel Free Syrian Army (FSA) has claimed responsibility for the bomb and a series of blasts that followed, and says it was targeting a security meeting attended by more than 150 senior officers.
Abu al-Noor, a spokesman for the FSA's Ahfad Al Rasoul Brigade, said: "The operation was targeting the central security command in response to murders perpetrated by the security forces nationwide."
According to official reports, three people - none affiliated to the UN - were wounded in the explosion. However, rebels says they suspect many officers were killed or injured.
Syria's deputy foreign minister Faisal Mekdad, described the hotel bombing as "a criminal act that shows what kind of attacks Syria is being subjected to."
Mekdad continued by saying that "such explosions will not affect Syria", before urging the international community to work "hand-in-hand against terrorism".
In the aftermath of the military compound explosion, Sky News claims 21 further explosions have been heard in the surrounding area. Precise details of these attacks have yet to emerge.
The explosions come after the 57-member Organisation of Islamic Cooperation (OIC), currently holding a summit in Mecca, agreed to recommend suspending Syria from the group. The foreign minister of Iran, one of Assad's strongest allies, said his country would never accept the proposal.