With Russia and the US agreeing to extend the ceasefire in Syria to Aleppo on 5 May, civilians in the province can hope for some respite from the war involving the Syrian regime, rebel fighters and Islamic State (Isis) militants.
According to the Syrian Observatory for Human Rights, since 22 April at least 246 civilians, including 43 children, have been killed in rocket fire and air strikes. While the embattled Syrian government is trying to control the situation, a psychological support centre called Daruna, holds afterschool activities to help rehabilitate children scarred by the war in Aleppo.
The name of the social centre means "our home" and it helps children cope with the sufferings of war, by holding several activities including arts and crafts. "We want to help children overcome the psychological and social pressures [of the war], whether on the street or at home," Afra Hashem, director of the psychological support department at Daruna, told Al Jazeera.
While many children in Aleppo have been discouraged by parents from going to school because of the war, some insist that children should complete their education and believe Daruna is playing a major role in assisting them.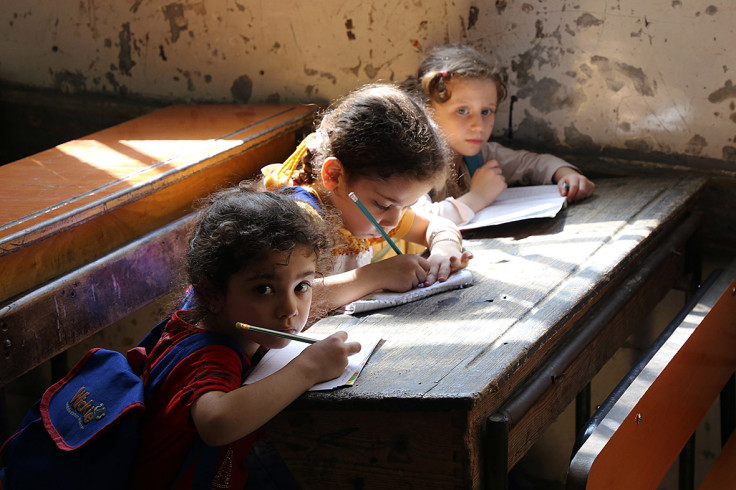 "My son can't move his hand well. He works on this by drawing and acting in the theatre," said Samia al-Ibrahim, a parent whose child is helped by the centre.
Daruna holds arts and crafts exhibitions and theatre performances for children, which enable them to express their emotions without fear. "We also screen movies to stimulate innovation among children who have to suppress their feelings due to the war," Hashem added. Moreover, psychology experts from the centre visit schools to examine children and identify whether they are in depression or need any kind of special attention.
The centre has had to be temporarily closed in the past during periods of heavy bombing, but Hashem has restarted it always because she believes her work is important for the people of the region.