At least 16 people were killed in the latest clashes between some Syrian rebel factions and President Bashar al-Assad's government on the outskirts of capital Damascus putting the existing truce in jeopardy.
A medical worker and the Syrian Observatory for Human Rights reportedly said that the clashes began on Saturday (18 February) and continued through Sunday.
The fighting reportedly began after the government fired rockets at a rebel-held area in the Qaboun area — to the northeast of Damascus. The war monitor and the medical worker both termed the attack as the biggest in at least two years. The attack has irked rebel factions who have threatened to retaliate, the BBC wrote.
The medical worker who was stationed near Eastern Ghouta — just outside Damascus — told Reuters that at least 13 people had died in the clashes, but the Syrian Observatory said that up to 16 people died in the two-day clashes.
Rescue workers in the area said that army shelling also targeted Douma — the main rebel stronghold in Eastern Ghouta — killing at least two people. There were also reports of heavy clashes in the southern border city of Deraa and the rebels were said to have made progress in a week-long offensive to seize the strategic district of Manshiya.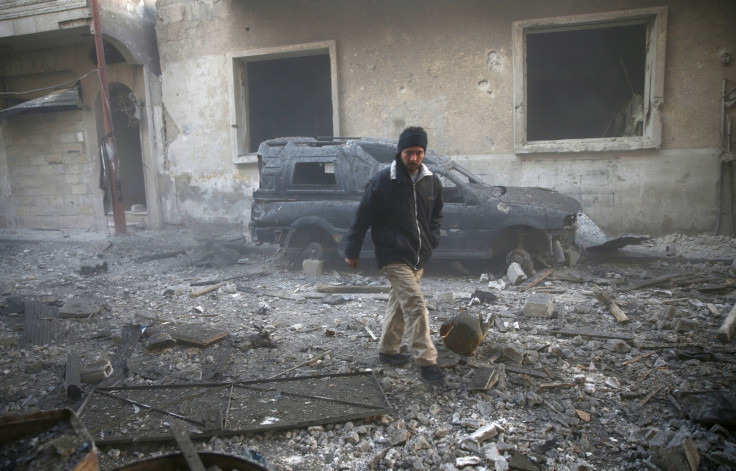 According to Reuters, rebels believe their capture of Manshiya district would thwart repeated army attempts to rupture their supply lines between east and west of Deraa. Residents of the area have reportedly told the news agency that air strikes have intensified in the past few days, leaving several field hospitals and a water tank dysfunctional.
Meanwhile, rebel groups have termed the latest government attacks as a "bloody message" from Assad and have threatened to launch counter-attacks. The factions that had agreed to a ceasefire, brokered by Russia, Turkey and Iran, have now warned that they reserve the right to respond to recent bombings of areas around Damascus, Homs and the south, the BBC wrote.
The truce took effect on 30 December, 2016, but had remained shaky because of frequent violations from both the warring sides. The ensuing violence, despite the truce, has also put the upcoming UN-sponsored peace talks scheduled in Geneva, Switzerland, into jeopardy.
Playing down hopes of successful talks on 23 February, the UN envoy to Syria, Staffan de Mistura, said that the aim behind the peace talk was to see if there was any possibility of initiating a political process to end the years-long civil war that has torn Syria apart. Thousands of people have fled the war zones and taken shelter in nearby countries, forced to live the lives of refugees.