Pope Francis continues to be vocal about the need for countries to accept refugees and offer asylum to those escaping war-torn and poverty-stricken region. During a visit to an Italian university, the pontiff was able to prove this through a personal example.
On 17 February, Francis met with students and faculty of the Roma Tre University in Rome where he was reunited with a Syrian refugee he had brought back home after a visit to the refugee camp in Lesbos, Greece in April 2016.
During an interaction with the audience, Nour Essa -- who along with her husband and child were flown to Rome by the pope – expressed gratitude for the life-altering kindness show to her family. "Our lives changed in a day thanks to you," she told Francis.
She also questioned the pope about growing concerns by many Europeans that Syrians and Iraqi migrants were threatening Europe's Christian culture. "Migration isn't a danger, it's a challenge to grow," he explained, pointing out that his native Argentina was filled with migrants.
"They bring to us a culture, a culture that is rich for us. And also they have to receive our culture and there has to be an exchange of cultures," he said, stressing the importance of integration.
"Because there is war, and they escape war; or there is hunger and they escape hunger. What would be the ideal solution? That there is no war or no hunger. That is, make peace, or bring investments in those places so that they have resources to work and make a living. But if there is hunger, they escape."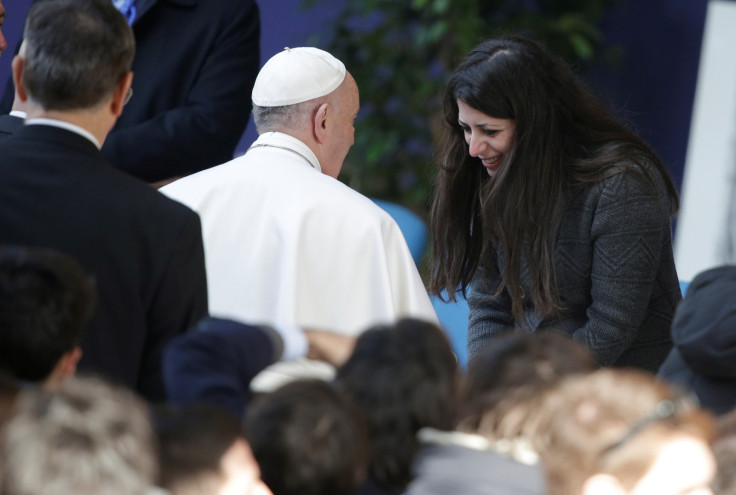 Since her move to Rome, Essa has gone on to win a government scholarship to finish her biology studies and works with Sant'Egidio community, a Catholic charity which helps refugees settle into their new lives by finding them jobs, housing and helping children enrol in schools.