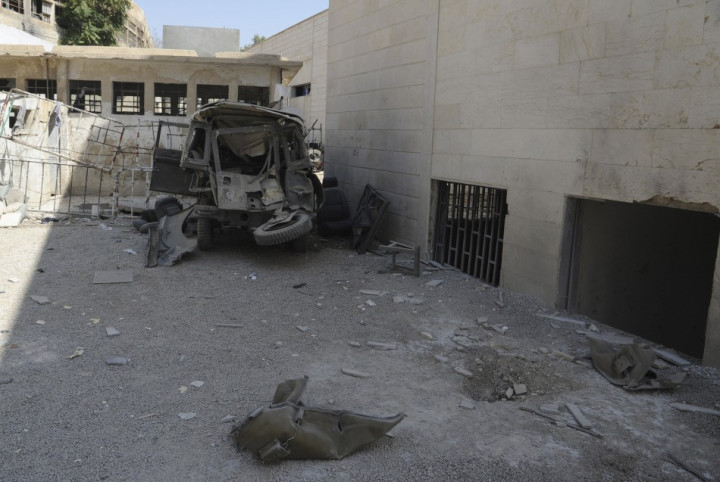 Rebels fighting against Syria's President Bashar al-Assad have rocked the regime's stronghold of capital Damascus with a series of bomb blasts.
The opposition groups said they planted bombs in the army's General Staff Headquarters right in the heart of the capital.
Assad-backed state news television also confirmed the audacious attack saying nearly half a dozen people have been wounded in the blasts which took place in the high-security area. The rebels are claiming a higher toll than the officially admitted figure.
Loud explosions and billowing smoke have been reported in Abu Rummaneh district where the military compound is situated. One of the two blasts was specifically targeted at the military security office.
A video statement released by the rebel group, Grandsons of the Prophet Brigade, said: "The operation targeted officers in the Assad army who have been planning and giving the go-ahead for the massacres against the Syrian people. Bombs were planted inside the army headquarters. It is a message that this regime is deeply infiltrated."
The attacks are seen as stunning as it is difficult to set off such bomb blasts especially when scores of checkpoints have been set up by the regime to monitor the rebels' movements in the capital.
"It is very dangerous to carry out a blast in this area. I have to cross seven checkpoints, and the guards are checking my ID and my small truck very carefully, when I bring some boxes of goods to my shop," an anonymous shopkeeper in the region told New York Times.
The shopkeeper went on: "I feel the government of Assad is losing its control of the capital. It is the most important district in Damascus, and there are explosions. I feel there is no secure region in Syria any more - the armed opposition can reach every district and the suburbs in Damascus."
Syrian forces strongly retaliated to the attacks by bulldozing buildings in the Damascus neighbourhoods which sheltered rebels.
More than a dozen buildings were demolished by the regime's forces in Al-Zayat and Farouk neighbourhoods. Opposition groups also claim more than 25 people were executed by forces loyal to Assad in the region, a claim which cannot be independently verified.
On the diplomatic front, the newly appointed UN and Arab League special envoy Lakhdar Brahimi does not seem hopeful of an immediate end to the Syrian conflict.
In an interview to the BBC, the veteran Algerian diplomat said ending the Syrian crisis is nearly impossible.
"I'm scared of the weight of responsibility. People are already saying people are dying and what are you doing? And we are not doing much. That in itself is a terrible weight," Brahimi said.