Syria Civil War: Assad Responds with Aerial Attack after Rebels Down Helicopter
Attacks follow Daraya massacre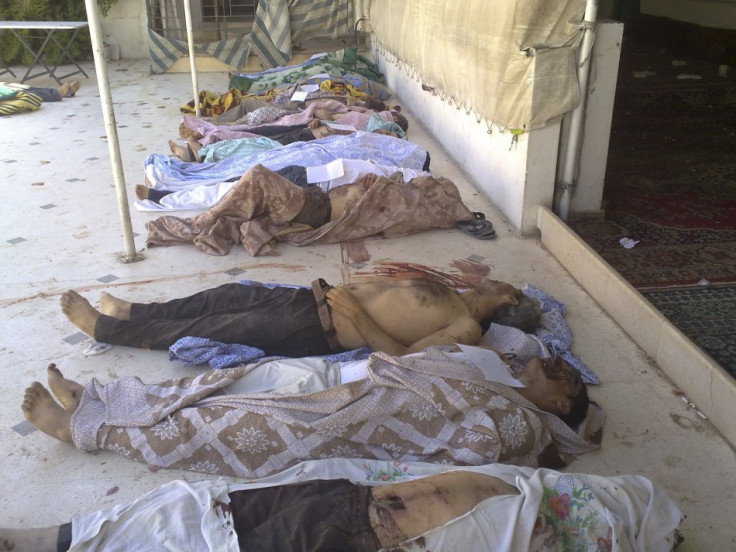 Forces loyal to Syrian President Bashar al-Assad have unleashed an aerial bombardment following the downing of an army helicopter by rebels on the outskirts of the capital Damascus.
The attacks have killed at least 60 people in the suburbs of Zemalka and Saqba, situated a few kilometres east of Damascus. Most of the victims are said to be civilians and the toll is likely to increase.
As soon as the aircraft started bombing the houses in the region, women panicked and fled along with their children. Many residential buildings were wrecked in the attack.
Retaliation from the regime's forces came hours after one of its helicopters was brought down by the rebels. Reports suggest the helicopter was hit by a projectile and came down in a ball of fire, killing the pilot.
In what appears to be a revenge for the Daraya massacre, the lightly armed opposition groups claimed to have attacked the helicopter. Their attack was subsequently confirmed by state television, without giving further details.
"It was flying overhead the eastern part of the city and firing all morning. The rebels had been trying to hit for about an hour, finally they did," Abu Bakr, an activist, told Reuters.
There was no indication of the use of missiles by the rebels. Although the opposition groups have been imploring the outside the world to arm them, world leaders have thus far refused to do so.
UN Secretary-General Ban Ki-Moon has called for an independent investigation into the Daraya massacre which reportedly killed more than 300 people.
"The secretary-general strongly condemns this appalling and brutal crime. It must be investigated immediately in an independent and impartial manner, and those responsible for perpetrating this crime must be held accountable," said Ban's spokesperson, Martin Nesirky.
© Copyright IBTimes 2023. All rights reserved.