Syria Isis News: Dramatic Footage of Islamic State Advance on Kurdish City of Kobani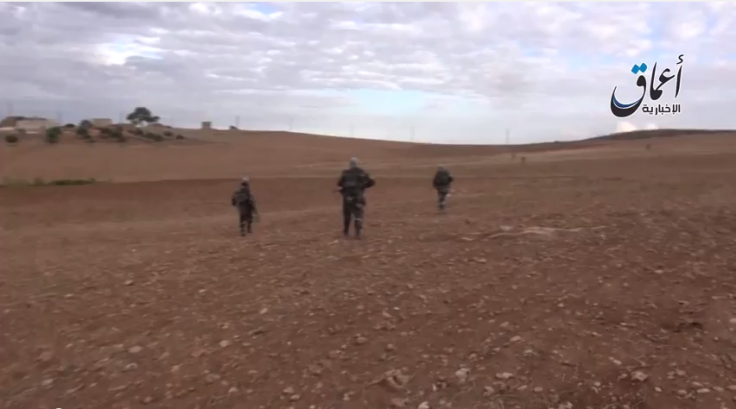 New footage purporting to show Isis (now known as the Islamic State) militants advancing on the embattled Syrian city of Kobani has emerged.
Fears are growing that the city will fall into the hands of radical Islamist militants, leading to a "massacre" of the Syrian-Kurds that populate the area.
The video shows IS fighters running across the barren plains of Syria in combat uniforms and armed with automatic weapons.
The footage shows militants keeping watch over the plains and firing shots from a mounted gun on a camoflauge pick-up truck.
Militants can be seen moving through the bushes in the countryside while others are seen laying down and firing shots towards what is believed to be the Kurdish forces defending the city.
Kurdish fighters have been defending Kobani from the Islamic State for nearly a month as the terror group continues to take territory around the city.
The UK-based Syrian Observatory for Human Rights has said that the group now control 325 villages and towns in the surrounding area.
Hundreds of Kurds from the YPG (Syrian-Kurdish militia) have crossed the Syrian-Turkish border to fight the terror group and protect the city, according to the YPG spokesman Redur Xelil.
Since the IS offensive on the areas surrounding the city began, approximately 150,000 civilians - mainly Syrian Kurds - have fled across the border into Turkey.
Kurdish affairs analyst Mutlu Civiroglu told IB Times that Kurdish fighters would continue to defend the city from the IS "outsiders" despite being "outnumbered and outgunned".
"They are defending their own land. They are politically motivated and consider IS invaders," said Civiroglu. "In a way, the [Kurdish fighters] are protecting their own fathers, their own mothers and children."
"People are very upset. They're all related to people in Syria," he added. "The situation is not good. Kurds are not going to let it go. The perception in Kobane is that Turkey has been backing IS."
© Copyright IBTimes 2023. All rights reserved.