Turkish tanks, supporting Syrian rebel troops have rolled over the border into Syria ahead of an assault on the Islamic State held city of Jarablus. As many as 20 Turkish tanks are believed to be taking part in the operation, Turkey's largest intervention in the Syrian civil war over the course of its five-year-long involvement.
The move over the border by Free Syria Army fighters and Turkish Special Forces was preceded by heavy artillery bombardment and airstrikes by the Turkish military.
Turkish Interior Minister Efkan Ala has said the assault is meant to safeguard Turkey's security. We "cannot sit and watch" he said, explaining it was "Turkey's legal right, it is within its authority" to take action.
The UK-based Syria Observatory for Human Rights said roughly 500 Syrian rebel troops had amassed at the Syrian border before crossing over.
Video shared on social media has shown a column of the soldiers walking down the single highway towards Jarabulus. Other footage has also apparently shown the first clashes between the Free Syria Army troops and Isis.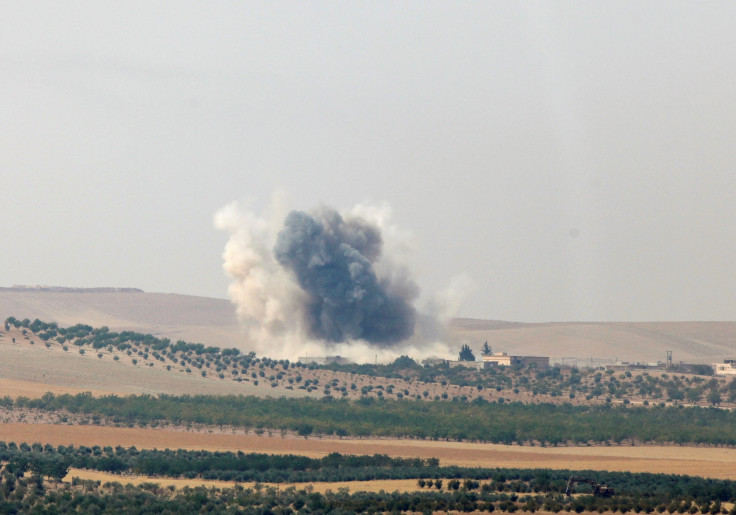 Turkish minesweepers and tanks preceded the Syrian troops, essentially clearing the way for them.
Turkish officials have characterised the military operation as an anti-terror exercise. However, the country's Foreign Ministry has warned Kurdish forces, which recently liberated the Isis-held city of Manjib to the east of Jarablus, to return over the Euphrates.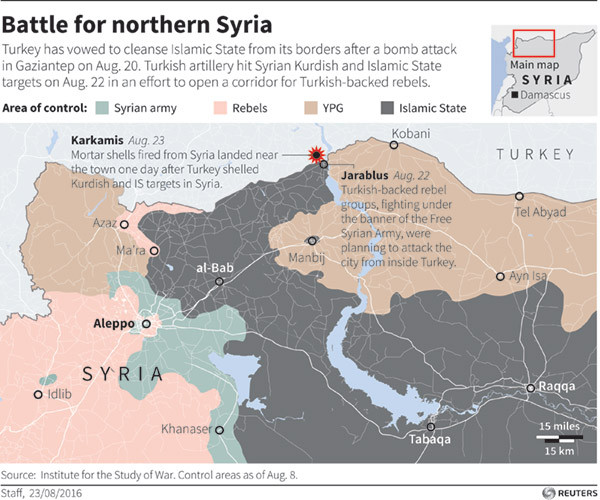 Minister Mevlet Cavusolgu's pledge on Tuesday of "every kind" of support for operations against IS along a 100-kilometer (62-mile) stretch of Syrian frontier.
The Kurdish-led group known as the Syria Democratic Forces, or SDF, recaptured Manbij from IS earlier this month, triggering concerns in Ankara that Kurdish forces would seize the entire border strip with Turkey.
The US says it has embedded some 300 special forces with the SDF, and British special forces have also been spotted advising the group, the Associated Press reported.
Jarablus, and its 11,000 inhabitants, have has been held Islamic State rule for the last two years. Kurdish forces liberating Manbij were welcomed into the city as heroes.