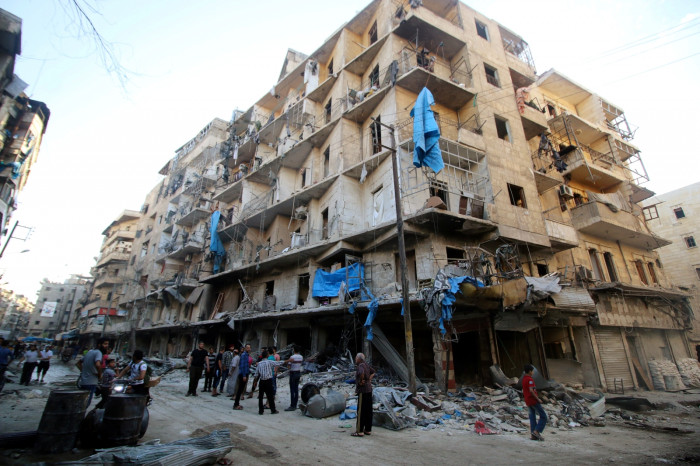 At least 15 people are reported dead after a series of air strikes hit three separate medical facilities in the besieged Syrian city of Aleppo. 10 people reportedly died in one strike - including children - at the UNICEF-supported Al Hakim hospital, as nurses were seen carrying babies to a basement after an air strike close to a pediatric unit in the eastern al-Shaar district.
UNICEF regional director, Peter Salama, said to Associated Press: "The Al Hakim hospital, a UNICEF supported facility, is one of the few that still provide pediatric services. Everyone must question their humanity when babies have to be taken out of incubators because of attacks on hospitals."
Videos posted and filmed in Aleppo showed scenes of utter carnage with bodies and body parts lying around, burning buildings and vehicles and smoke hanging heavy in the air. Witnesses said some people were trapped under rubble, others burned alive and members of the emergency services were also targeted as they went to help. Some witnesses put the death toll at closer to 50. Eye-witnesses blame regime planes and Russians for the attacks.
Aleppo is roughly divided between rebel-held areas to the east and those loyal to the regime of Bashar al-Assad in the west. The two sides frequently fire shells into each other's neighbourhoods, often with civilians often caught in the crossfire. al-Assad's forces are also dropping so-called 'barrel bombs' from helicopters, whilst backed by the Russians, who have also launched many air strikes in a bid to secure al-Assad's Presidency.
Since the Syrian civil war started in 2011, hundreds of thousands of people have died along with millions facing displacement, with many of them attempting to reach Europe in what has been deemed the worst refugee crisis since World War II. Thousands have died in the attempt to reach safety and the influx has put pressure on Europe's entire political system.