Syria: At least 20 air strikes hit rebel-held areas of Aleppo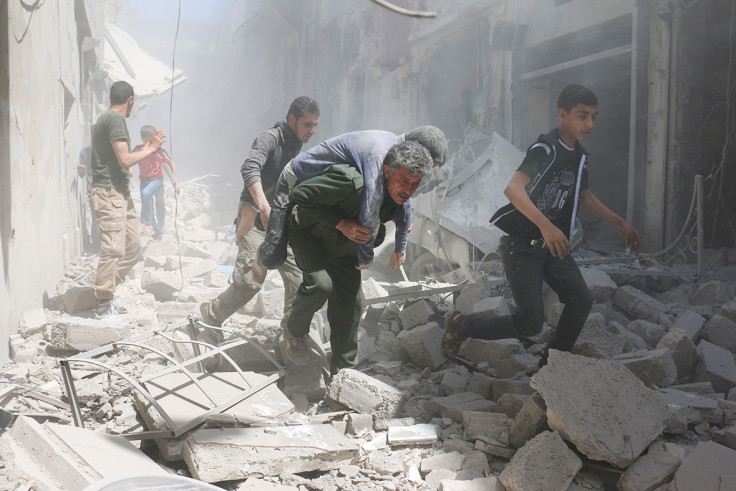 Rebel-held districts of the ruined Syrian city of Aleppo were peppered with at least 20 air strikes on Saturday 30 April - the latest in a nine-day series of attacks which have so far killed around 250 civilians.
The Syrian Observatory for Human Rights, a monitoring organisation based in Britain, has not yet said whether the strikes had been carried out by the Syrian government or by their Russian allies.
The government, under embattled dictator Bashar al-Assad, kicked off a campaign of deploying fighter jets to bomb the rebels holed up in Syria's largest city on 22 April, at a cost of 140 lives - amongst them 19 children, according to the Observatory. It said that the rebels' retaliatory mortar strikes on districts of the city held by the state have meanwhile killed 96 people, 21 of them children.
"People are doing nothing other than hiding in their homes," Zouhir Al Shimale, a local journalist, told Al Jazeera.
"They rush in the morning to buy food and get home as quickly as possible so they aren't outside when the strikes start. There has been a lot of damage to buildings and cars."
The latest government strikes seem to be targeted in part at rebel medical facilities. More than 50 people were killed earlier this week when government bombs hit the al-Quds hospital, and the neighbouring area. 14 staff and patients died in the hospital itself, according Doctors Without Borders, who had been working there.
Zeid Ra'ad Al Hussein, the UN high commissioner for human rights, said on Friday 29 April that "violence is soaring back to the levels we saw before the cessation of hostilities".
A 24-hour truce did come into effect on Friday in parts of of the country, in response to the escalation of violence, though it does not however include Aleppo. A third round of peace talks has been tabled for 10 May.
© Copyright IBTimes 2023. All rights reserved.