Global social media campaign launched after Aleppo left out of Syrian truce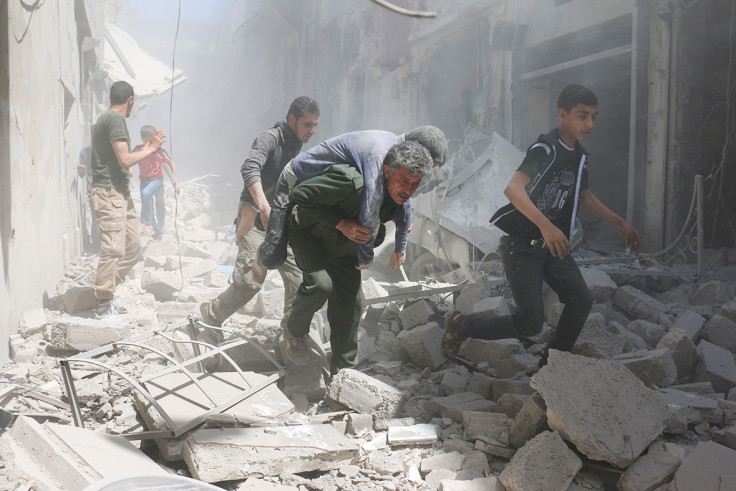 Activists have taken to social media to highlight the plight of civilians trapped amid fighting in the Syrian city of Aleppo. Over two thousand people so far have expressed support for a 'Worldwide Red Protest' against the Syrian regime's murder of civilians, rescue workers and doctors in airstrikes. Many have also changed their Facebook profile photos to plain red or red including the hashtag #AleppoisBurning, in the style of the plain black 'Je suis Charlie' profile photos which followed the January 2015 shootings at Charlie Hebdo magazine in Paris.
A 24 hour truce came into effect on Friday 29 April in parts of Syria, as violence against civilians increases in the war-torn country. The truce announced by Syrian forces will not however include Syria's largest city Aleppo, where an airstrike on the Al Quds hospital run by Medecins Sans Frontieres reportedly caused 60 deaths on 27 April. It will last for 24 hours in Damascus and the Eastern Ghouta region outside the capital, and for 72 hours in the Lattakia region.
On Saturday, 30 April, the Syrian Observatory for Human Rights reported that 44 people in Aleppo had been killed during 48 hours of airstrikes against forces of President Bashar al-Assad, bringing the week's death toll in the city to 200.
The partial truce is said to be the result of talks between the Americans and Russians, prompted by urged by the UN, according to a BBC report. The Syrian army claims that the temporary halt in the conflict is to stop the rebels hitting civilian targets.
A "cessation to hostilities" in Syria was agreed in late February 2016, as part of the Geneva II negotiations between the regime and the opposition. Russia also said it would withdraw the majority of its troops on the ground.
The White House said on Friday "the US government and Russia have been working to secure a general recommitment to the 'cessation of hostilities' by all parties in Latakia and Eastern Ghouta".
Since Geneva II ended inconclusively on 27 April 2016, the High Negotiations Committee (HNC) and the Syrian government have struggled to reach an agreement, while bitter fighting around Aleppo has increased.
The United Nations Human Rights committee has attacked the escalation of violence in Syria – in particular, the targeting of hospitals and marketplaces. The UN High Commissioner for Human Rights, Prince Zeid bin Ra'ad of Jordan, said on Friday that the latest reports show a "monstrous disregard for civilian lives by all parties to the conflict".
The date of the third round of talks has been tentatively set for 10 May, but both the Syrian regime and opposition groups continue to level bitter recriminations against each other.
© Copyright IBTimes 2023. All rights reserved.