After Hamza died, Ahmed took the stone out of one of the few olives he was given for lunch by the prison guard and scribbled on the wall.
"In memory of a father of three girls, who passed away in this cell. He wanted to live."
Ahmed had known Hamza for only a few minutes but, he says, he will find him impossible to forget.
That morning, he had just been thrown into solitary confinement upon arrival at the government's political security branch in Damascus.
Ahmed knew it was wise to keep quiet when arriving at a new detention facility. He had been passed on for questioning to other branches of the regime's general security directorate since his arrest and received the same "welcoming party", as he calls it, everywhere.
"The first two days they beat you and torture to break you up," he says. But the new cell had only walls and no loo and he had to go.
"I was stupid. I knocked on the door and asked to go to the bathroom.
"The guard said: 'Yes, we will take you'. Once out in the corridor they started beating the hell out of me and told me to do it there.
"I wasn't able and they threw me back in solitary," he recalls, nervously smoking a cigarette.
Ahmed thought it was over for the day but soon realised he was wrong.
"I heard they started beating another guy, then someone shouted: 'he is dying' and my door opened again," he says.
"They threw him in my cell. He was red from blood and was wearing only boxer shorts and a t-shirt that was torn apart," Ahmed says.
"'He told me he was cold. I put his head on my leg, gave him my shirt and we started talking."
Hamza was a car dealer from Old Damascus. He had been detained over his alleged involvement in the revolution. "He fought for the right to a better life," Ahmed says.
Hamza told him of his three daughters. "I still remember the names: Sarah, Fayruz and Afaf," Ahmed says. Then he grabbed the long beard Ahmed had grown in detention and begged him to contact his family if he ever made it out.
"He closed his eyes. I thought he was sleeping as his hand was still holding my beard; then, suddenly, it dropped," Ahmed says.
"I was shocked, I was crying," he says as his eyes got red and watery and he lit another cigarette.
"I told the guard he had died. He laughed. 'And what should we do?' he said."
Hamza's body was left in Ahmed's cell for two days. Then the guards told Ahmed to take the body out of the cell.
"There was a line of them outside, waiting. They began to hit me as I carried him."
Ahmed hunched his head down, drawing his face close to Hamza's body. "Unfortunately he smelt," Ahmed says. He let the body go onto the ground and rushed back to his cubicle.The guards followed.
"One said: 'For being a strong man, I'll give you a present' and tasered me on the back", Ahmed says.
"I didn't feel anything. No pain; the pain was inside, I had lost the feeling of physical pain."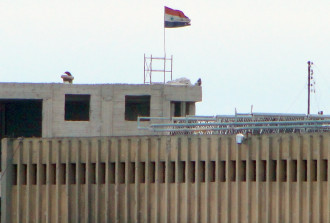 Detention
There was no other reason why Hamza was thrown in his cell, other than the guards' sadistic pleasure of their disdain for human life, Ahmed says.
It was the spring 2012 and Syria was descending violence that continues today.
According to the Syrian Observatory for Human Rights (SOHR) in the first four-and-a-half months of 2014, 847 prisoners, including 15 minors and six women, have died of torture, summary execution, and maltreatment in Syrian jails and military bases.
Since the beginning of the conflict, some 18,000 people held by the government have disappeared, and many are feared dead, SOHR said.
Ahmed went through it but survived. IBTimes UK met him at a café near Taksim Square, in Istanbul, where he now lives as a refugee.
A Homs native he was double-crossed by a fellow activist and arrested in early 2012. He was not a rebel fighter but had actively supported the uprising against the government of Bashar al-Assad, taking care of logistics and hunting for medical supplies, food and money.
He said the hardest period of detention were the first seven days when "no one talks to you, they only beat you".
In the hands of the Assad's security services he was tortured at length. He was hanged naked for hours, showered with water and then electrocuted several times. He had the nails tore from his left foot and his right calf skewered.
Now he laughs as he shows his gnarled nails' regrowth: "This is nothing compared to what other people went through."
He sports a long scar on his forehead and said a dentist asked him for about $3,000 to fix what was left of his jaws and teeth. His vision sometimes gets blurry and sudden headaches are a daily companion, he says.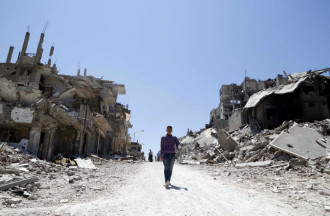 Escape
After five months in Damascus a judge transferred him back to Homs where he faced trial on charges of belonging to a terrorist group.
The educated son of a wealthy family, he was luckier than many others. His mother had lost her husband and was willing to go to extreme lengths to bring her only son back.
When she heard he was about to be moved to a military jail, she gathered her savings, got in touch with the right people in the administration, paid an 8 million Syrian pounds (£30,000) bribe and secured Ahmed's release.
"My mum is a hero. She went to the most dangerous places to have me freed," he says.
He was released on his 31st birthday, in October 2013. A week later a military vehicle pulled in front of his home.
His mother told him not to worry: they had paid and he was a free man now; but Ahmed was so traumatised by his experience that his body shook at the sight of a uniform. He hid in the basement. It was the right thing to do.
"They wanted to bring me back. Someone had made my name to the air force security in Homs," he says. "She told them I was in Damascus and they believed her."
Ahmed was left with two options, joining a rebel group or flee. He chose the latter.
"When I entered jail I knew everyone involved [in the uprising] in Homs. When I came out it was different. Things had changed," he says.
More importantly however he wanted to help his mother out and find a job to to repay her.
He paid a smuggler who robbed him before leading him across the Lebanese border. "He said: give me all you have, or I hand you in to the military'," Ahmed recalls.
From Lebanon he made his way to Turkey and then Istanbul.
As we talked, rebels were completing their withdrawal from Homs, marking the end of three years of resistance.
Ahmed is disheartened but not resigned. "Everything we tried to build is cracking... but it doesn't mean we cannot build it again," he says, vowing to go back one day.
"I love my country but mainly I love my city a lot, I love Homs.
"When I was at school I use to carve or scribble my name around the city. I never thought I would have done it inside the prisons' walls as well, but now it's there. I'm everywhere there."
Ahmed's attempts to contact Hamza's family have so far been unsuccessful.
Names have been changed to protect their identity