The peace talks between representatives from President Bashar al-Assad's government and a delegation of fragmented Syrian rebels got underway on Thursday (23 February) in Geneva even as fighting continued between the two sides back home.
United Nations mediator Staffan de Mistura urged both the warring sides, who met for face-to-face talks for the first time in three years, to end years of conflict and try to work together to bring peace and stability to the war-torn nation.
Mistura, who said a day earlier that he did not expect an "immediate breakthrough" from the meetings, said the biggest challenge in brokering peace between Assad and his opponents was lack of trust. However, he was planning to hold meetings with the representatives from both sides on Friday (24 February) to establish a procedure for the talks.
In his opening remarks at the first meeting, Mistura told the delegates: "I ask you to work together. I know it's not going to be easy to end this horrible conflict and lay the foundation for a country at peace with itself, sovereign and unified.
"The Syrian people desperately all want an end to this conflict and you all know it. You are the first ones to tell us it. They are waiting for a relief from their own suffering and dream of a new road out of this nightmare to a new and normal future in dignity."
According to Reuters, Mistura neither received any applause for his speech nor any indication of the delegates' willingness to end the six-year-long conflict through dialogue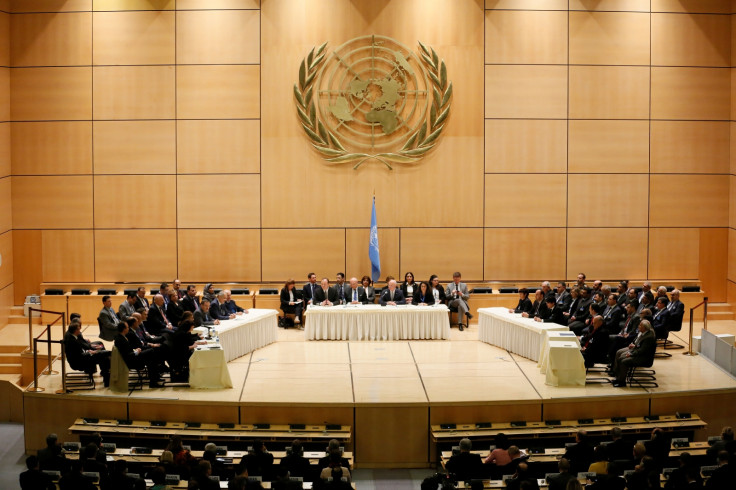 While representatives from the warring sides faced off at the UN assembly hall in Geneva, Syrian government jets were bombing rebel-held areas of Aleppo, Deraa and Hama provinces and the rebels were firing rockets at government targets, Reuters reported.
However, Mistura said he plans to capitalise on the window of opportunity that was opened by the shaky ceasefire brokered by Russia, Turkey and Iran in December 2016. "The effort has jump-started the process ... to see if there is a political road forward and we don't want to miss this opportunity.
"We do know what will happen if we fail once again - more deaths more suffering, more terrorism, more refugees," the UN envoy to Syria said.
Meanwhile, the lead negotiator of the opposition group, Nasr al-Hariri, told reporters that the peace talks should prioritise finding a political transition in the country, which Assad's side would not agree to.
"If Staffan is serious he has to stick to the first subject on the agenda which is a political transition that is acceptable to the Syrian people," he said.
Criticising Iran – Assad's ally in the conflict – Hariri said: "Iran is the main obstacle to any kind of political deal." He accused the Iran-backed militias of violating the ceasefire.
Russia is also backing Assad, while some rebel factions who demand Assad's ouster are getting support from Turkey in the Syrian civil war that broke out in 2011.