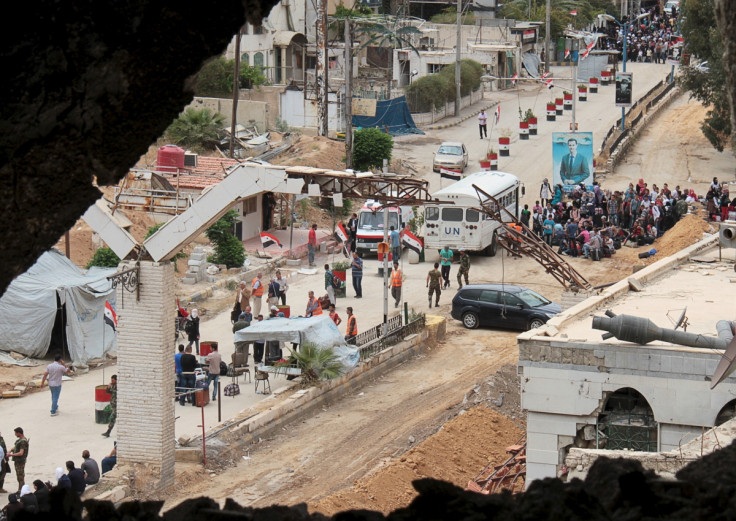 The Syrian government has released students from two war-torn areas near Damascus to take their final year-end examinations, even as clashes continued in the suburbs of the Syrian capital. According to local activists and state media, the government allowed around 360 students from the rebel-held Damascus suburb of Moadamyeh, and 68 other students from Madaya in the southwest of Syria.
The ninth grade students travelled to a government area to sit for their exams on 14-15 May, the AP reported.
Despite activists recording several deaths from starvation in the areas around Madaya and Moadamiyeh, government forces and allied militia have allowed the relief group only limited access to both the areas.
Wafiqa Hashem, a teacher from a Madaya school, said the high school students from the area were taken to the government-held town of Rawada after the soldiers thoroughly frisked them at the first checkpoint outside the town. This was the first time in 302 days that the children were allowed to leave their town, according to Abdelwahab Ahmad, a media activist from Madaya.
State media has reported its Education Minister Hazwan al-Wuz as hailing the first week of exams as a "rejection of the ignorance that the nation's enemies are striving for".
Hashem said 80% of the students could not attend classes continuously in the past academic year either due to hunger or cold weather, with only five or six attending classes at a time during the worst periods of siege. "They were fighting for their lives, but they will make all efforts [to pass their exams]," she added.
Observing that her students' health condition has improved since the government began sending relief material into Madaya, Hashem said the students have resumed sports activities. However, she and her colleagues have not had enough time catching up on the syllabus.
Doctors Without Borders, an international humanitarian aid group, recorded 16 deaths because of the siege in Madaya in January alone.
An independent monitoring group, Seige Watch, has estimated that over one million Syrians are living in the besieged areas. Along with the UN, the group has blamed the government for most of the blockades.