There have been more than 400 fatalities including "dozens of women and children" in the city and the surrounding countryside since Russian and Syrian airstrikes resumed on Thursday (23 September), following the breakdown of a truce brokered between the Russian, US and Syrian forces.
Speaking to an emergency session of the UN Security Council, Staffan di Mistura said: "Nothing justifies what is going on in front of our own eyes.
"Since the unravelling of the cessation of hostilities and the unleashing of unprecedented military violence affecting civilians we have seen the situation in Aleppo reach new heights of horror."
The ability of medics to offer aid is being hampered by the destruction of buildings, particularly in eastern Aleppo where the streets are so choked with rubble, it is impossible for limited medical supplies to get through.
"We have seen dozens of airstrikes on Friday and Saturday, causing scores of deaths and injuries," said di Mistura.
"First responders are overwhelmed. At our best current estimate, there have been 213 fatalities in Aleppo province, 139 in eastern Aleppo and 74 in rural Aleppo.
"New weapons are being used including incendiary bombs, which light up the pitch dark in eastern Aleppo as if it were daylight, and bunker-busting bombs which, if they are being used in areas where civilians are present, may amount to a war crime."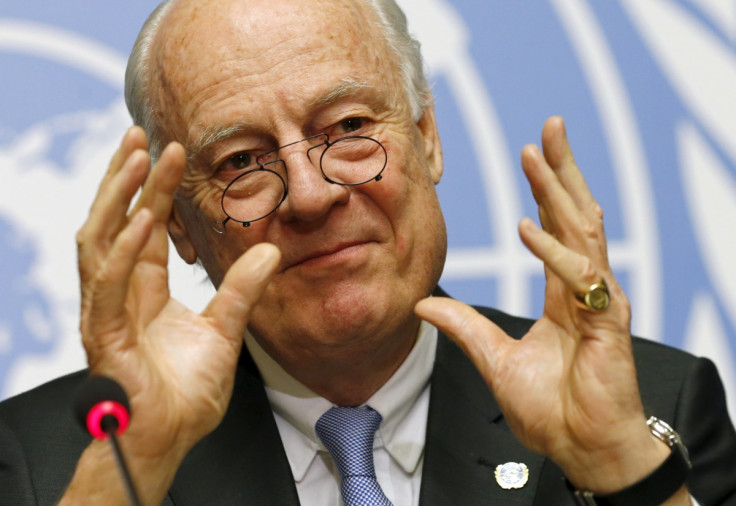 According to di Mistura, there is only enough food in the city to feed 60,000 of the 275,000 under siege in eastern Aleppo, and that two million people in the region have been without water for days.
The Britain-based Syrian Observatory for Human Rights told Associated Press at least 23 people have been killed in presumed government or Russian airstrikes on various neighbourhoods in eastern Aleppo on Sunday alone.
Ibrahim Alhaj of the Syrian Civil Defense search and rescue volunteer force (known as the White Helmets) says the group has documented the deaths of 43 people so far.
Hospitals in the city are reporting that they are overwhelmed with casualties.
Mohammad Zein Khandaqani, a member of the Medical Council, which oversees medical affairs in the opposition areas, says he expects many of the most badly wounded will die from insufficient treatment and facilities.
"I've never seen so many people dying in once place," he said.
A senior British diplomat told the BBC, ahead of the UN meeting, that in his opinion "the US-Russia track on Syria is nearing the end of its life."