When the Islamic State took over Raqqa in 2014, the city turned black. The group's black flag fluttered atop buildings where the militants resided, black paint was smeared across doors, and women were forced to cover from head-to-toe in black cloaks.
Raheb, a 27-year-old medical school graduate, arrived at Raqqa National Hospital as the occupation started. She had left the city she was born and raised in to study in the Syrian capital of Damascus, but when she returned to Raqqa, her home was unrecognisable. It had become the de-facto capital of the Islamic State of Iraq and the Levant.
"Total transformation took place in the city. It changed from a simple, civil city into something called the Islamic State. After one week of occupation, everything changed – clothes, shoes, everything," Raheb says.
"We started to see women in the street wearing black cloaks and covering their faces. We saw men being whipped in the street just because they didn't close their shops during the prayer times. Women were whipped because what they were wearing was not right. I wasn't able to wear brown boots, because they are brown. You are only allowed to wear black, all other colours are forbidden. Our lives turned to black."
The brutality of IS was worse than anything she could have imagined, but Raheb wanted to use her skills as a doctor to help the civilians trapped in the war-torn city. For four months, she worked as the only full-time doctor at the hospital, a direct witness of the atrocities and terror inflicted by the militants.
"On many occasions, women were stoned to death in the street. Beheaded bodies were left for days just to spread terror and fear among people. This is the policy of IS – to silence all the people," Raheb says.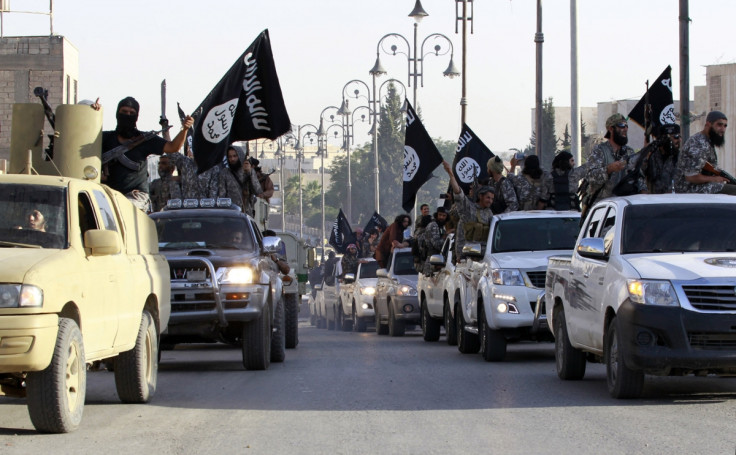 "A matter of life or death"
In 2013, Raqqa became the first city to fall to rebels fighting to overthrow President Bashar al-Assad. Syrians called it the "Bride of the Revolution". A variety of rebel groups, from religious moderates to hard-line Islamists, held power. Within a year, IS had eliminated rival insurgents and controlled nearly every aspect of daily life.
"At the first stage of the city being occupied by IS, people tried to resist their rules and even tried to protest, but then they realised it was a matter of life or death. So it was impossible," Raheb says.
By the time she had started working at the hospital, IS militants had infiltrated the city's schools, eliminating the classes they did not approve of because they "do not fit in with the laws of god", such as philosophy and chemistry. Public executions were taking place in the city's Paradise Square, a space where children had once played. People were flogged, beaten and killed for the smallest of offences, such as smoking a cigarette.
The hospital in Raqqa began to experience a shortage of medical personnel, as many female doctors stopped turning up to work. Having witnessed the punishments for disobeying the rules, Raheb was forced to replace her scrubs with the black abaya, a cloak which covered her entire face.
"According to their rules, women are allowed to expose their eyes and hands, but they didn't even like to see my eyes in the hospital. I don't know why. So I preferred to cover my whole face just avoid their everyday insults. Every day I was subjected to their insults, names, everything" Raheb, says, pausing. "I don't know. It is hard to even think about it."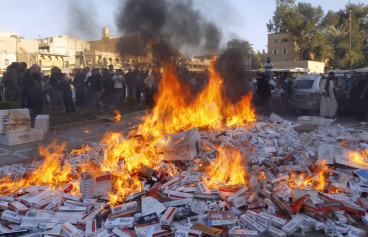 One day, a militant burst into the emergency room where she was filling out a patient's file. He began shouting in broken Arabic about gloves.
"Gloves, need!" he screamed, sending Raheb into a panic. She went into a drawer to hand him medical gloves, before realising he was telling her to cover her hands. Raheb pulled down the sleeves of her abaya and continued her work. "He could not even look at my fingers," she says.
Under the jihadists' totalitarian regime, a female doctor treating male patients was out of the question – not even boys. "When I got male patients, even if it was a child, I was never allowed to approach them. If they caught you treating men they would execute you."
In August, a female dentist was beheaded for treating male patients in Al-Mayadeen, an IS-occupied town on the border of Iraq. "They just murdered her because they knew she was treating a man in her clinic. They killed her and sent a message to her parents that their infidel daughter was dead because of this."
Escape to Turkey
Raheb decided to flee when an IS guard at the hospital tipped her off that she was about to be reported to the religious police. Although she never found out why, she suspects the militants had discovered she was trying to smuggle additional medicine for civilians into the hospital as stocks were dwindling.
She fled from an emergency exit in the back of the building and with the help of her father, reached her sister's house where she hid for several days. At the beginning of August, she left Syria for Turkey and settled in Gaziantep, a southern Turkish city 40 miles from the Syrian border.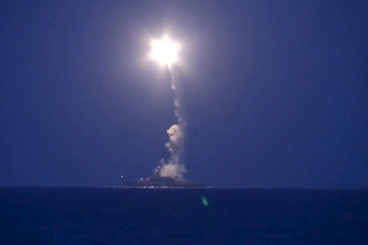 It is nearly exactly one year since the first of thousands of US-led air strikes were launched in Syria and Iraq. France has stepped up its air campaign in Syria following the assault on Paris last week, in which IS jihadists killed 129 and injured hundreds more.
In their largest raids in Syria to date, French fighter jets targeted the IS stronghold in Raqqa in coordination with US forces, reportedly striking a command centre, a recruitment centre and training camp for jihadists and a munitions depot.
At the end of September, Russian jets joined the crowded skies above northern Syria. Although President Vladimir Putin has said they are attacking IS, air strikes have mostly targeted other rebel groups fighting against Bashar al-Assad.
"I need to say that Russian attacks, even when they target Raqqa city, have never approached IS centres – never," Raheb says. "They sent them randomly and without any caution. They are targeting all the other militants, even the moderate ones, just because of their interests in protecting Assad."
On-the-ground verification of who has been killed is near impossible with the ongoing violence. President Barack Obama has ruled out US boots on the ground, despite calls for an invasion. Nobody knows exactly how many civilians have been killed in the strikes so far, but an August report by Airwars, a group monitoring air strikes against IS, stated more than 450 non-combatants had been killed – including at least 100 children. Figures from the US-led coalition had only acknowledged two civilian deaths at that time.
"It is very complicated because you have enemies and you have friends and they both live in the same area," Raheb says. "Many civilians are being killed by those strikes on the Islamic State – although it was done to save them. So it doesn't make sense. It is difficult for me because I lost many people I know – my neighbours, my friends – because of these attacks that are supposed to target IS."