Seated face to face, separated by a small table over which they both lean to be closer to each other, two of the world's most powerful men talk with frowning intensity. Barack Obama, the US president, and Vladimir Putin, his Russian counterpart, have not talked much these past few months. Relations soured over the Kremlin's activities in Ukraine. A wall of financial sanctions have been erected between the West and Russia. Nato has poured troops and resources into its borderland with Russia, shoring up the defences of its post-Soviet members. The Russians have fuelled war in Ukraine and buzzed the skies of Nato allies with aircraft during military exercises, to test the alliance's response.
But a succession of terror attacks perpetrated by Islamic State (Isis) -- from Ankara to Beirut, Sinai to Paris -- have left hundreds of people dead and offer an opportunity for the West and Russia to reset the relationship by working together against a common enemy: Islamist extremism. The Obama-Putin tete-a-tete at the G20 summit in Turkey lasted half an hour. Disagreements remain, most notably on the fate of tyrannical Syrian president Bashar al-Assad, an Iran-backed Russian ally who has overseen horrific human rights abuses, atrocities and slaughter of civilians committed by his regime's forces, including chemical weapons attacks. Western powers want Assad gone. But it is a starting point. A White House briefing after said the pair "agreed on the need for a Syrian-led and Syrian-owned political transition", though there was no specific mention of Assad. Such agreement builds on progress made hours earlier at Syria talks in Vienna between US Secretary of State and Russian Foreign Minister Sergey Lavrov. The broader talks were between the foreign ministers of 20 nations with interests in the Syrian war.
This is a PR coup for Russia, said Sarah Lain, a research fellow at the Royal United Services Institute (Rusi), a security and defence thinktank. "You're seeing the western world turn to Russia, almost, which is something that was unimaginable in some ways after Ukraine," Lain told IBTimes UK. "So you're seeing western leaders bring Putin back into the conversation and I think the difficulty will be for western leaders that this will be on Russia's terms now."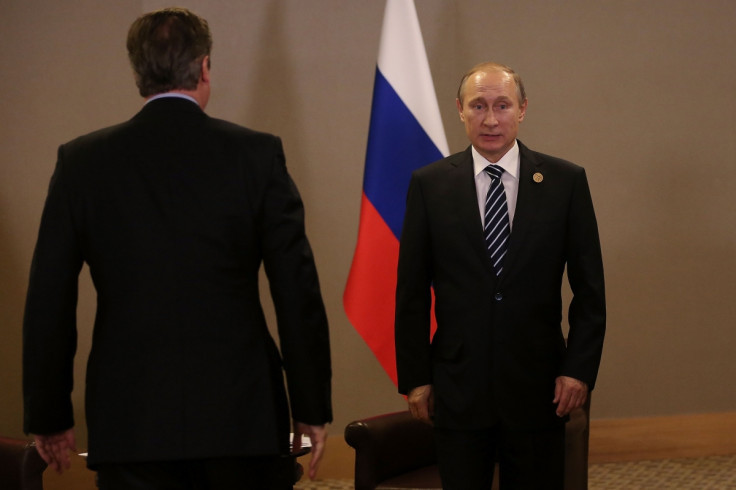 There were lukewarm words of reconciliation between the British and Russian governments too, after the former shared intelligence with the latter about the Sinai plane bomb. UK Prime Minister David Cameron also met with Putin. "The recent tragic events in France show that we should join efforts in preventing terror," Putin told the media after his meeting with Cameron. "Unfortunately our bilateral relations are not of the best," he said, before adding that there had been a "revival" and that Russia was looking at how to develop these relations. "I want to thank you for the talk that we had when you expressed your ideas about the root causes and shared the intelligence data," Putin said. Cameron, who has been trying to build a parliamentary majority in favour of expanding British airstrikes from Iraq into Syria, so action is endorsed by the House of Commons, told reporters that it is "clear to me that we must work together to defeat this scourge of terrorism that is a threat to Britain, a threat to Russia and a threat to us all. I'm sure we can discuss that and the situation in Syria this morning. And as you say there's an opportunity to talk about our bilateral relationship as well."
Two of the many IS attacks have changed the dynamics of the Syrian war more than the others. First, the bombing of a Russian passenger jet over Egypt, murdering 224 people. Second, the co-ordinated shootings and suicide bombings across Paris, which at the time of publishing had claimed at least 129 lives, with more fatalities expected as the critically ill succumb to their injuries. Both have focused Russian and western minds on eradicating IS amid public outrage. In the wake of the Paris attacks, the French and US have already launched an unrelenting bombing campaign on Raqqa, Syria, the de facto IS capital. Russian military action in support of its ally Assad has, the Kremlin claims, been targeting IS already, though critics accuse it of focusing on the ordinary rebel groups and civilian areas rather than the extremists, something Russia denies.
"Russia is not fussed about Assad being the one that leads Syria for the long-term," Rusi's Lain said. "It's almost a small point now in the bigger picture of the Syrian political process because, basically, the west wants to crush Isis and whether Assad is in power at the time or not is almost a secondary objective. Obviously, the peace process and the political transition in itself will be something that Russia wants very much to be involved with and now the West is on board more with Russia being at the forefront of that sort of process. So I think you'll get some sort of agreement where there is no security of Assad's position in the long-term, but I think Russia will win in the short-term of allowing him to stay as head of the government in the transition process."
She added: "I think you'll get at least attempts by the west if they are going to speak more closely with Russia on Syria [...] to try to push Russia to pressure Assad on human rights abuses and not bothering to not target civilians. But really I think in some ways this is in Russia's hands. It's basically got the upper hand in this situation."
If the Syrian political transition agreed to by Obama and Putin comes off, without collapsing their relations again, then the two countries may be able to move forward in other areas, seeking to capitalise on the opportunity. The most important of those is Ukraine, where Russia has annexed the Crimean peninsula and is accused of pumping weapons and soldiers into pro-Russian rebel groups who have seized control of areas in Ukraine's war-torn east.
"I think Russia will recognise this as actually a win almost on Ukraine," Lain said, "because I think the more Russia has the upper hand and leverage and a leading position on decision making in Syria, the less leverage the west even still has on pressuring Russia over Ukraine. I think that's part of the point of this. I do think when [Russia's intervention in Syria] happened, it wasn't completely, totally long-term in the planning, but it obviously shifted focus at a crucial time, for strategic reasons, because Assad was on the out it looked like, so Russia saw this as a really crucial moment to intervene and bolster their ally in the Middle East [...] I think it will be very worrying for Ukraine, because, I'm not saying the west will roll back on all of that, but it means it's a sign the west needs Russia, and if Russia knows it's needed, Russia has leverage, which it uses."
For some months now, small diplomatic progress has been made through counterterrorism working groups among G20 powers. Oleg Syromolotov, deputy director of the Federal Security Service, a Russian intelligence agency, said there had been a two-year hiatus on bilateral counterterror work between Russia and the West. "What has been done in terms of bilateral cooperation over the past year? Finally, after a two-year break, the Russia-Spain working group on counterterrorism met in May. Russian-Japanese consultations were held in May, Russian-Dutch, Russian-Serbian, and, finally, the Russia-France working group on countering new threats and challenges held a meeting, though at a very low level. But seriously speaking, the level [of cooperation] should, of course, be increased," Syromolotov said, reported the state-funded Russian news agency Sputnik. There was still no functioning counter-terror working group with the US. That may change in light of recent events and the new focus on IS.
But others are cautious about the prospects for improved relations between western powers and Russia, in particular the US. "I don't see this resulting in a change in underlying policy and the level of cooperation," said James F. Collins, former US ambassador to Russia and senior associate at the Washington-based research institution Carnegie Endowment for International Peace, to IBTimes US. "There is a certain amount of hostility and distrust about what is happening in Syria."
And Russia's apparent diplomatic victory comes as a chalice poisoned. "I think there are a bunch of problems that Russia's going to have to deal with that it's going to find very challenging even if they do get to some kind of political agreement," Lain said. "Dealing with Iran and what Iran wants out of this whole process. And dealing with whatever opposition they choose. They're going to decide which groups are terrorists versus genuine opposition which can be involved in the transition process. They're all highly suspicious of Russia and its intentions in Syria. So I think it's not that Russia has outright won on Syria, but compared to the west it's in a stronger position, has shown that the west now acknowledges that it's in a stronger position."