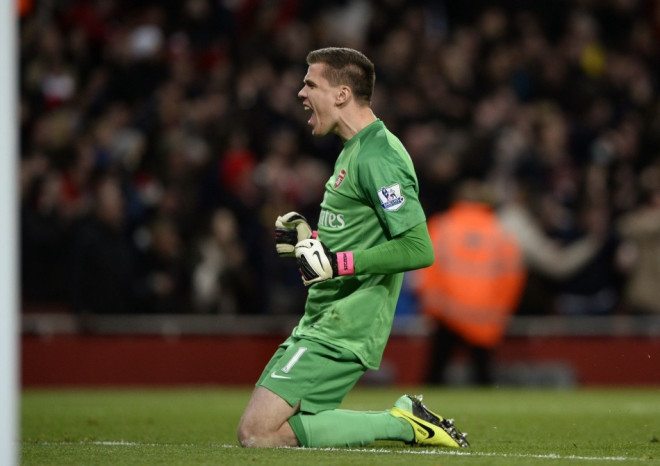 Arsenal goalkeeper Wojciech Szczesny believes that Arsenal are well equipped to win the FA Cup this season after failing to end their trophy drought against Birmingham in 2011.
The Pole and Laurent Koscielny were involved in a misunderstanding in the Arsenal penalty box, which allowed Birmingham to score the winning goal in the final of the league cup, with only two minutes left on the clock.
This is the first time after the incident that the Gunners have a chance to end their eight season trophy drought as they take on Wigan at the Wembley Stadium on Saturday.
A win here will take the pressue off the Gunners as ignominous defeats against the likes of Chelsea and Liverpool, followed by losses against Stoke City has wrecked their confidence.
However, a win in the semi-finals will give them some much needed push going into the final five games of the season as they look to beat fourth place chasing Everton for a place in the Champions league.
Szczesny believes that they have matured from the last time they were at Wembley and will not commit the same mistake, which scuppered their season last time around.
The arrival of Aaron Ramsey, who has comfortably been their best player this season, is likely to boost their chances, .
"It's huge - we know that we're in a very strong position to win the FA Cup this year, and we're two games away from doing so," Szczesny said.
"We're at Wembley so we know how important it is for the fans and all the players. I hope it's going to be a very positive day for the club.
"We had a bad experience recently at Wembley in the League Cup final. But [we've matured] a lot and we've got a lot more experienced players. Also I think that the likes of Jack and Aaron Ramsey and myself were only 18 or 19 at the time.
"We're three years older now, we've got three years of experience under our belt and we're more prepared for it," he added.