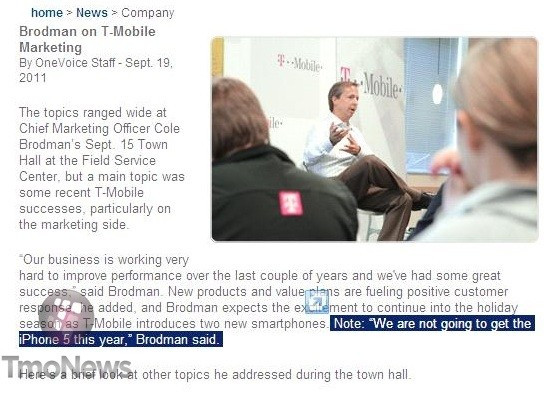 A new report has emerged claiming to have leaked an internal T-Mobile news posting, confirming the existence of Apple's fabled iPhone 5 smartphone.
The allegedly leaked image of the news post stemmed from TmoNews on Tuesday. The image showed a news post TmoNews claimed was written by the company's Chief Marketing Officer Cole Brodman. As well as revealing the existence of the currently unconfirmed iPhone 5 device, the post also clarified T-Mobile would not be offering the smartphone upon release.
"Our business is working very hard to improve performance over the last couple of years and we've had some great success," read the leaked image. "We are not going to get the iPhone 5 this year."
The news adds to growing speculation regarding Apple's next entry into its iPhone series. To date there are currently two prominent theories regarding the direction Apple will take for its next iPhone.
The first suggests that the company will attempt to break into the currently Android-dominated affordable smartphone market. The theory alleges that the company plans to release an updated budget version of its current iPhone 4 handset.
The second theory suggests that Apple is set to release a truly next-generation iPhone. Labelled the iPhone 5, the exact details of what changes and upgrades will be made to the device to improve it past Apple's current iPhone 4 vary Web site to Web site.
Previously a slew of leaked images from numerous other tech sites had indicated that the new iPhone would be the amended iPhone 4S, rather than the iPhone 5. Though since the allegedly leaked news post appeared speculation has once again returned to the, still unconfirmed, iPhone 5.
To date Apple has not confirmed the existence of either device.