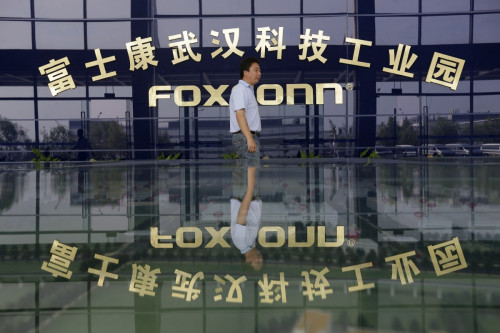 Another former executive at Taiwanese tech major Foxconn Technology Group was detained on 28 January over allegations of taking bribes from suppliers.
Bloomberg, citing Huang Mou-hsin, deputy chief prosecutor of the Taipei District Prosecutors Office, said the former employee was detained for questioning by the order of a Taiwan judged.
He is the second former employee of the company to be held in an investigation of bribe payments from suppliers, the news agency said. He could be jailed as long as two months and investigators can seek a further two-month extension before filing any charges, Huang said.
Foxconn, which assembles Apple's iPhones and iPads, said earlier that it is cooperating with the investigation. It noted that it had discovered breaches of its code of conduct in an internal investigation.
The former executive joins an ex-colleague who has been detained since 22 January, Bloomberg said. Two other former employees accused of taking bribery were released on bail on the same day.
Tainted Image
The bribery investigation is yet another blow to Foxconn's reputation, following a number of labour and worker safety issues in China.
Even though the company is based in Taiwan, most of its manufacturing takes place in central and southern China, where it owns huge facilities employing up to 100,000 people.
An internal audit found fraudulent activities at a small part of the business, the company said, adding that the people who are found guilty of any illegal actions should be "prosecuted to the fullest extent of the law."
"Foxconn holds our company, our employees, and our suppliers to the highest standards in responsible business practices and the results of our internal audit have driven a number of enhancements to our company's procurement policies to ensure that such violations cannot be repeated," the company added.
In January 2013, Taiwan's Next Magazine reported that a Foxconn executive in the coastal Chinese city Shenzhen had been detained by the police on bribery accusations.
The company earlier said that it is looking to expand its manufacturing operations in the US and Indonesia as part of its ambitions growth plans. It currently has production sites in more than 10 countries, including China, Vietnam, Turkey, Brazil, Mexico and Hungary.