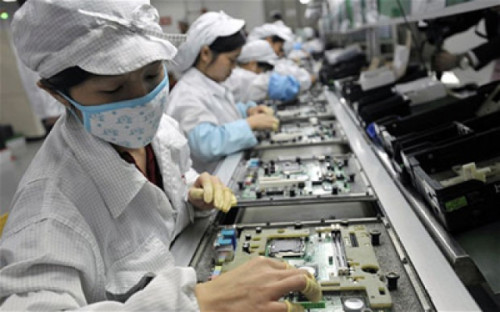 Taiwanese tech major Foxconn Technology Group is looking to expand its manufacturing operations in the US and Indonesia as part of its ambitions growth plans.
The company, that assembles gadgets for Apple, currently has production sites in more than 10 countries, including China, Vietnam, Turkey, Brazil, Mexico and Hungary.
Foxconn is now looking to establish an advanced display manufacturing plant in the US, according to chairman Terry Gou.
"The US is a must-go market," Gou said, speaking at the group's annual year-end party on 26 January.
"Automation, software and technology innovation will be our key focus in the US in the coming few years."
A manufacturing plant in the US would give the world's largest contract manufacturer of electronic goods proximity to the tech giants, for whose business they compete.
In November, the company said was considering a $40m investment in manufacturing and research facilities in Pennsylvania.
Gou noted that Foxconn is studying the feasibility of building an advanced panel manufacturing plant in the US that would produce liquid display screens larger than 60 inches. That would address the company's difficulty in shipping large-sized displays to the US from Asia.
The company in 2012 announced that it would acquire a 50% stake in Sharp's advanced panel making unit in Sakai, Japan. It is boosting its investment in digital displays, an important component for smartphones, tablets and televisions.
Indonesian Plans
Foxconn prefers to invest in Indonesia which it says has the potential to replace China as the world's largest manufacturing hub in future. The company, which currently employs more than 1 million people in China, is facing problems such as rising labour costs and work place disputes in the country.
Foxconn is planning to make Indonesia its key production site in the coming years, investing about $10m over five years with local partner Erajaya Swasembada, according to Indonesian government officials cited by Reuters.
In return, Indonesia will offer the Taiwanese firm a tax package for the project, Reuters said.
Foxconn's ambitious growth plans is expected to help lift its annual revenues to T$10tn ($333bn, £202bn, €243bn) over the next 10 years. In 2013, the company reported revenues of T$4tn.