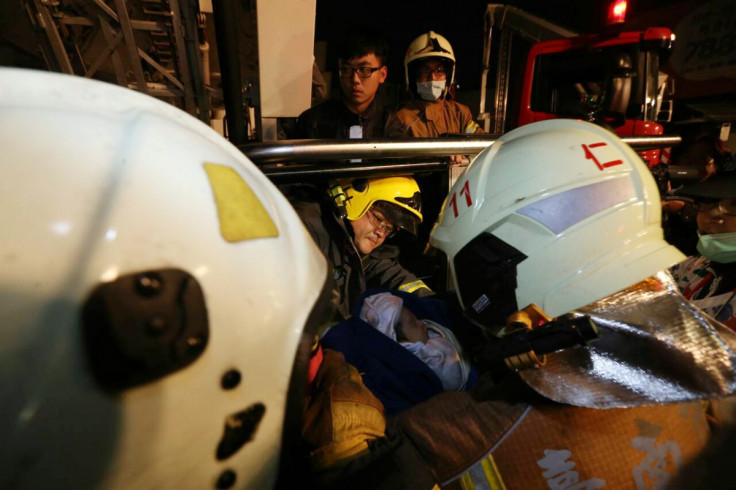 Two babies are among 340 people pulled from the wreckage of fallen apartment buildings in the Taiwanese city of Tainan as rescue teams work through twisted metal and fallen bricks in attempts to save the injured. The magnitude 6.4 quake has claimed the lives of 11 people as vibrations toppled at least eight apartment buildings, including the 17-floor Wei Kuan high rise, which was home to 256 people.
At least 475 people have been injured in the city, which has a population of over two million, when the quake struck just before 4am (8pm GMT) on Friday, 5 February. Among the dead was a 10-day-old baby according to local media.
Four died when an apartment building collapsed and at least 30 people are still thought to still be trapped inside other fallen buildings. The death toll is expected to rise as emergency crews clear each structure. Taiwan's President Ma Ying-jeou promised an "all-out effort" to rescue surviving citizens.
Ma announced plans to erect shelters near the city as workers conducted frenzied searches using ladders to climb over mounds of rubble. The death toll is predicted to be high, as families were gathering in their homes to celebrate Chinese New Year, which takes place on 8 February.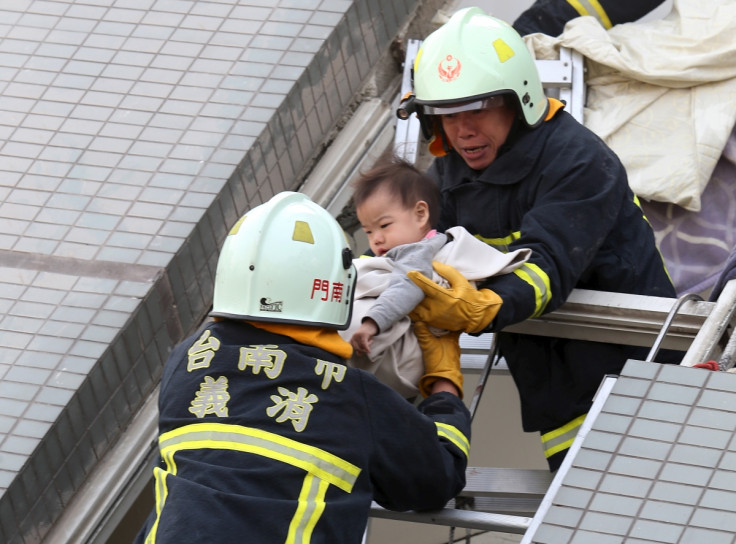 Five of the dead victims were caught in the Weiguan Jinlong building in the city's Yongkang District. The state-owned TV service CCTV reported that two babies were rescued from the Wei Kuan high rise where rescuers, assisted by Taiwan's military forces, are tackling the wreckage from four different areas.
Residents of Tainan – the closest large city to the quake's epicentre in Kaohsiung (about 35 miles away) – told of apartment buildings shaking violently as the ground trembled beneath their feet. Already incredible tales of trapped survivors breaking out of the building have emerged.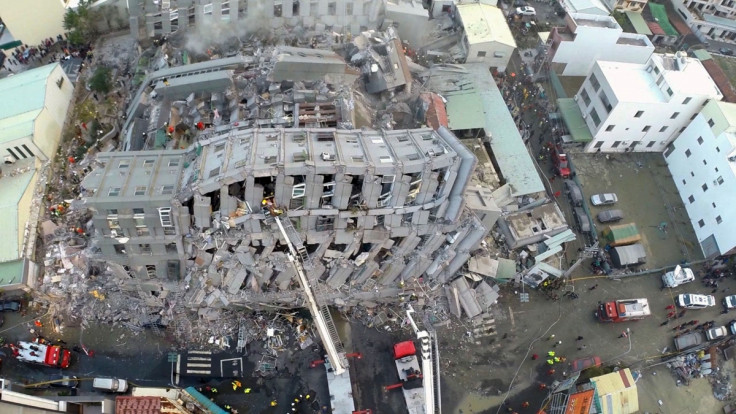 "I used a hammer to break the door of my home which was twisted and locked, and managed to climb out," one woman told local TV station Formosa TV. Another man said that he had tied clothes together to make a rope and lowered himself from the ninth floor to the sixth floor below, Hong Kong-based Apple Daily reports.
One resident, Irving Chu was staying in a hostel in central Tainan, he said he had been woken up by a tremor lasting about 40 seconds. "It was a violent jerking motion," he told the BBC. "The entire room was shaking. We were just holding on to things. We were shaken up."
Johanna Ma, a Hong Kong resident told the details of her experience to the South China Morning Post. "I thought someone had grabbed me by the shoulders and was shaking me violently as I slept. After five seconds, I realised it was a giant earthquake," she said.
"We quickly grabbed a few belongings and walked down 12 flights of stairs. We drove to a building that had collapsed near our home in the eastern district of our city. We saw that the second floor had sunk to ground level and the first floor had disappeared."
Taiwan lies near the junction of two tectonic plates and tremors are often felt throughout the Island. This quake, according to geographers, was shallow, which means its effects could be even more devastating. So far, at least five aftershocks have been felt as far away as Taiwan's capital Taipei, 200 miles away.