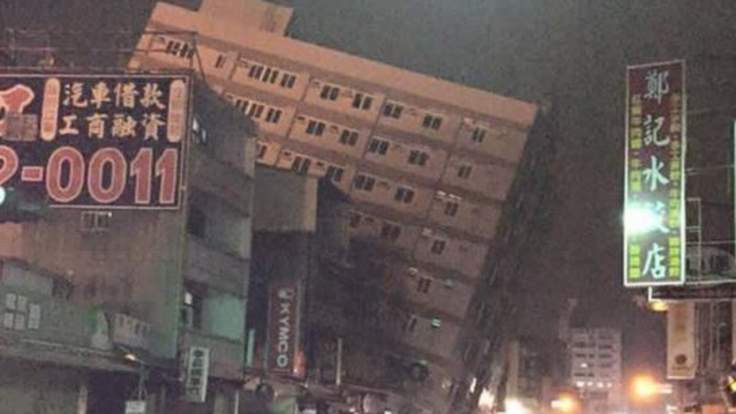 At least 14 people were killed when a magnitude-6.4 earthquake hit Taiwan, the country's Disaster Response Centre confirmed. Taiwan's official Central News Agency reported a 10-day-old girl and a 40-year-old man were killed in Tainan.
According to the AP, 221 people were rescued from a 17-storey residential building which had collapsed in the city of Tainan. The building has 60 apartments and it was unclear how many people were trapped inside, Li Bomin, an official from Tainan City Fire Department, told CNN earlier.
Of the rescued, 115 people are receiving hospital treatment, two of whom are in a critical condition. Seven people at a market were also transported to hospitals after suffering injuries.
The US Geological Survey said the powerful quake struck at a depth of six miles, about 24 miles (39km) northeast of the city of Kaohsiung. The quake was initially reported as having a magnitude of 6.7, but was later downgraded to 6.4.
According to local TV reports, several buildings in the nearby city of Tainan have collapsed. The area is home to nearly two million people. There were no immediate reports of deaths or serious injuries. The Pacific Tsunami Warning Centre said a tsunami is not expected. Liu Shih-chung, an official with the Tainan city government, said the city had set up an emergency response centre. More than 100 rescuers are at the scene.
Taiwan's China Post newspaper said on its website: "Collapsed buildings reported in Tainan, with rescue workers arriving on scene. The city government there has set up a level one emergency response center. Onlookers are urged not to block access to emergency crews moving into the area."
Tainan city's fire department said earlier that it was on its way to the site of one building that had partially collapsed. Power outages havebeen reported in the region. Local people in Taiwan said the tremor was strong. Pao-feng Wu, a Tainan resident, told Reuters: "I hugged the wall and put my face to the wall."
Taiwan's outgoing President Ma Ying-jeou is on his way to the city, CNN affiliate EBC and other Taiwanese media reported.
Taiwan lies between two tectonic plates and is regularly hit by earthquakes. In 2013, four people were killed when a 6.3-magnitude quake caused widespread landslides in the centre of the island. In 1999, a 7.6-magnitude quake killed around 2,400 people.