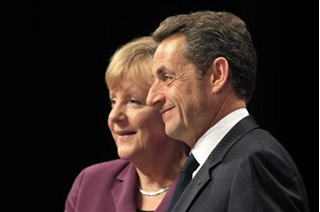 A eurozone split is believed to be under discussion by officials in Germany and France as Italian debt veers into dangerous territory.
Given the murky political and economic situation in Greece and Italy, the possibility of a European Central Bank or IMF intervention to bail out the defaulters is in doubt.
The French and Germans are believed to be seeking a way out of the present crisis as it is impossible for them to bail out all the shaky economies in the region. The policymakers are desperately exploring ways to save the eurozone from crumbling.
French President Nicolas Sarkozy has come up with the concept of a "two-speed" eurozone with a tightly integrated "core group" and a more loosely joined "confederation."
"Clearly, there will be a two-speed Europe: one speed that moves toward more integration in the eurozone and one speed for a confederation in the EU," said Sarkozy in a conversation with university students.
The concept has been rejected by new, poorer EU member countries that are wary of being placed on a minor track, reports Reuters. There are 10 non-euro EU members, including those seeking euro entry soon, such as Latvia, the ultra-cautious Czech Republic and countries that have chosen to opt out, Britain and Denmark.
"The euro area is not an opt-out from the EU. In fact, the entire EU should have the euro as its currency," said Jose Manuel Barroso , European Commission President, in a speech in Berlin.
Meanwhile, German Chancellor Angela Merkel made it clear on Thursday that the object is to save and stabilise the eurozone in its present form. A German government spokesman ruled out the idea of a smaller eurozone.