Thousands of enraged Venezuelans took part in demonstrations across the country, which left a policeman dead and two hurt, to protest against a government decision to block a recall referendum designed to oust President Nicolas Maduro.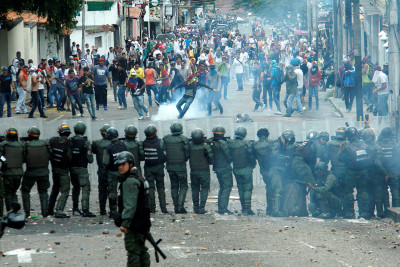 Calling it "The Taking of Venezuela" protesters and opposition parties filled the roads of Caracas that would normally be full of rush hour traffic, hoping to bring down the government. At least 140 people were detained by police during the protests which took place across the nation, according to the Foro Penal human rights group. A police officer was shot and killed, while two others were injured under unclear circumstances in central Miranda state. Venezuelan's living in Peru organised a peaceful rally outside the Venezuelan embassy in Lima, brandishing giant Venezuelan flags, demanding freedom for Venezuela .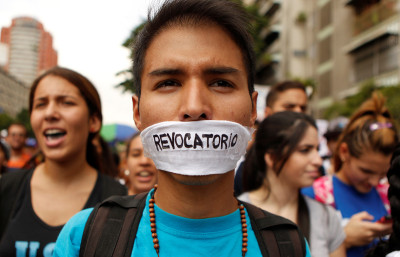 The protests follow last week's suspension of a push to for a second referendum to remove Maduro, which would end 17 years of socialism in the South American OPEC nation. Maduro has accused the opposition of seeking a coup with US help and has vowed there will be no plebiscite on his rule. Maduro, the unpopular 53-year-old successor to Hugo Chavez has presided over an unprecedented economic crisis that has resulted in a severe lack of food and supplies to its residents, who are now facing serious financial woes. "Maduro has shown how scared he is that the people will express themselves," opposition leader Henrique Capriles told the Associated Press while demonstrating in Venezuela's capital.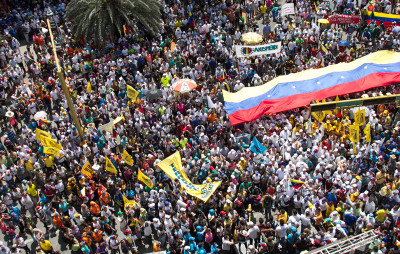 Yet despite Venezuelans blaming Maduro for their economic woes, the ruling party is in firm control of institutions like the military and has shown no interest in yielding to the opposition. It is not possible for Venezuela's National Assembly to impeach Maduro, unlike other countries in Latin America, such as Brazil, where Dilma Rousseff was removed from presidency back in August. The power to remove someone from presidential power lies with the Supreme Court, which has never voted against Maduro, much to many Venezuelans fury. They, along with opposition legislators, believe that the Venezuelan leader has neglected his job, and therefore abandoned his presidency.