An American-Canadian couple held hostage by the Taliban since 2012 has appeared in a new video saying that they are being prepared for execution along with their two children. Canadian Joshua Boyle and American Caitlin Coleman fear that if their captors' demands are not met then they will all be killed.
The pair says that the Taliban members themselves are becoming more fearful of execution by the Afghan government and want the US and Canada to ensure no more of their insurgents are killed. They were kidnapped by militants four years ago whilst travelling through the country and have not appeared in a video since 2014.
Coleman, 31, from Pennsylvania, was pregnant at the time of her abduction and has given birth twice while in captivity. During the footage both seem withdrawn while delivering the chilling message to camera.
Joshua said: "We have been told that the Afghan government has executed some of their prisoners(...)Our captors are frightened by the idea of further execution or further death. Because of their fear they are willing to kill us, willing to kill women, to kill children, to kill whomever, in order to get these policies reversed or take revenge."
In May, the Afghan government in Kabul hanged six Taliban-linked inmates in executions that were part of President Ashraf Ghani's new policy against the extremists. The country is now battling jihadists from both the home-grown Taliban and mostly foreign-born Islamic State (Isis).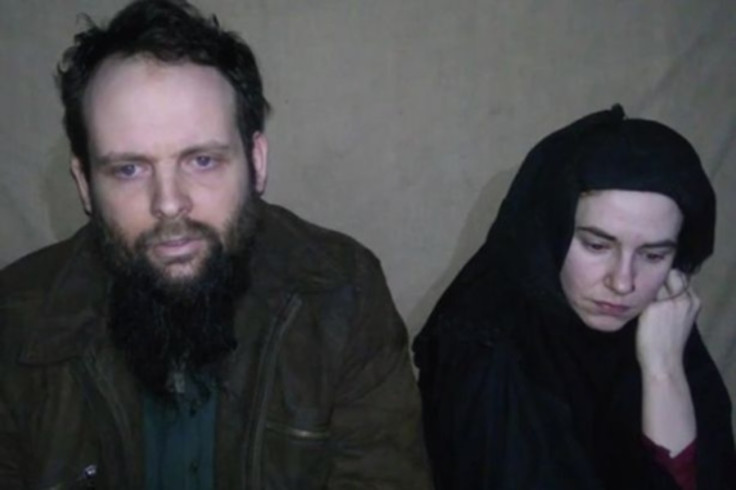 The video is the first time the pair has been seen in three years and neither of their children has appeared in videos released by the terror group. In July 2016, Coleman's parents revealed to the media they received a letter from their daughter saying she had given birth in captivity to a second child.
Boyle, 33, from Toronto, was previously married to a woman named Zaynab Khadr, who was the older sister of Omar Khader, a Canadian national imprisoned in Guantanamo Bay for 10 years after being accused of fighting against US troops in Pakistan and Afghanistan in 2002.
Washington has previously rejected any link between Khader and his capture saying it was merely a "horrible coincidence".