Taliban warns Trump: Afghanistan will become another graveyard for US troops
The Islamist militant group issued the warning after US President Donald Trump unveiled his Afghanistan poilcy.
Afghanistan-based Islamist militant group Taliban on Tuesday (22 August) warned US President Donald Trump that they will turn the country into "another graveyard" for the American soldiers.
The warning came a day after Trump announced the much-awaited Afghanistan policy and stated that he will send more troops to the war-torn Asian nation. He, however, did not give any more specifics on the policy or the number of troops.
"A hasty withdrawal would create a vacuum that terrorists, including Isis and al-Qaeda, would instantly fill just as happened before September 11," Trump said in his first formal address to the nation as commander-in-chief late on Monday. He added that he wanted to avoid the mistakes committed by the US in Iraq.
In response to his statement, Taliban spokesman Zabiullah Mujahid said that the US president said "nothing new".
"For now I can tell you there was nothing new in his speech and it was very unclear," Mujahid said in a statement. He added: "If America doesn't withdraw its troops, soon Afghanistan will become another graveyard for this superpower in the 21st century."
Another senior Taliban commander told AFP news agency that Trump was "just wasting American soldiers" in Afghanistan. "We know how to defend our country. It will not change anything," he warned, noting that the current American president was merely perpetuating the "arrogant behaviour" of previous presidents.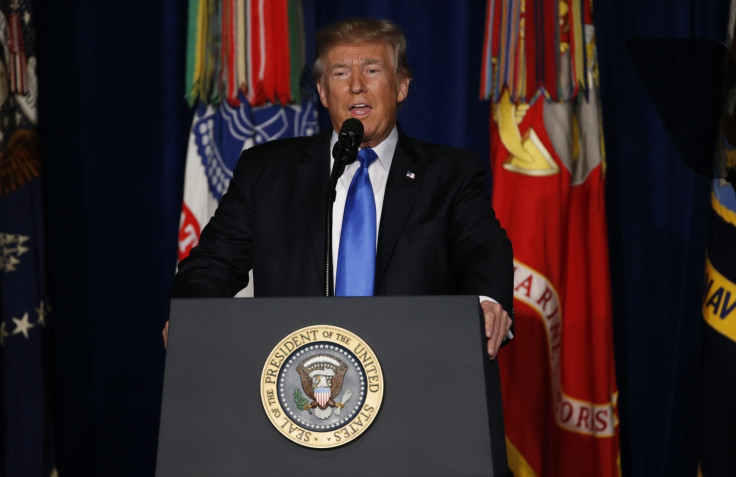 "For generations, we have fought this war, we are not scared, we are fresh and we will continue this war until our last breath," he told AFP by telephone from an undisclosed location. He also said that Trump's statement proved the current Afghan government "is a US puppet".
Meanwhile, amid speculation on the number of troops that could be deployed in Afghanistan, senior White House officials have reportedly revealed that Trump has already authorised the deployment of up to 3,900 more troops.
Soon after Trump announcement on Monday, Taliban launched a rocket attack on the US embassy in Kabul. No injuries or casualties were reported in the attack, but it was being seen as Taliban's warning to the latest US move.
© Copyright IBTimes 2023. All rights reserved.