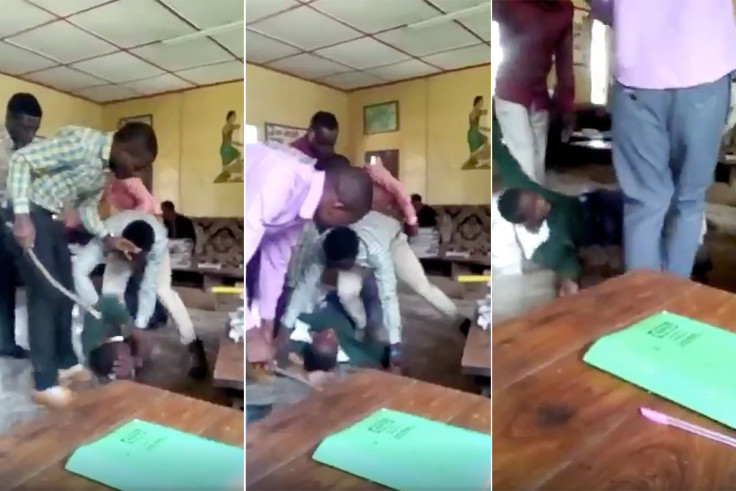 A video showing five trainee teachers beating a schoolboy has stirred outcry in Tanzania, where corporal punishment is illegal. The video, widely shared on social media, is likely to spark a debate on whether laws banning corporal punishment are being obeyed in schools across the country.
The United Nations children's charity (Unicef) defines corporal punishment on children as a violation of their human rights, dignity and bodily integrity, which also impacts "children's engagement with schooling and capacity to learn" and can have "long-lasting implications for their life chances".
As Tanzanian authorities investigate what officials described as "a criminal offence", IBTimes UK looks at some of the African countries where corporal punishment in schools is still legal, or practised in spite of laws banning it.
Nigeria
Corporal punishment prohibition is still to be achieved "in the home, alternative care settings, day care, schools, penal institutions and as a sentence for crime ," according to Unicef.
The organisation also said Nigeria's Article 295 of the Criminal Code in the southern part of the country and article 55 of the Penal Code and the Sharia penal codes in the northern states give parents the right to use force to "correct" their children.
Earlier this year, a secondary school student was treated at a hospital in Lagos after being flogged by her principal and some teachers.
In 2015, Iyanuoluwa Dahunsi – a 15-year-old student in Oyo state - died six months after she was reportedly slapped by the secretary to her school's principal. Following the assault, Dahunsi developed an eye problem that never healed, despite repeated treatments.
South Africa
South Africa abolished corporal punishment in schools in 1997. However, several reports have claimed the practice is still common in schools across the country.
In February 2016, eight-year-old Nthabiseng Mtambo died in a hospital in Free State after her teacher had repeatedly beaten her on the head with a hose-pipe as punishment for not having done homework.
Zimbabwe
In 2011, the country publicly committed to prohibiting corporal punishment "in all settings". In 2013, Unicef said prohibition was still to be achieved in some sectors including "daycare, schools, penal institutions and as a sentence for crime".
In June 2015, the Constitutional Court set aside a High Court order outlawing the caning of juveniles. A few month later, the court also ruled corporal punishment was permissible as a disciplinary measure carried out by parents and teachers
Kenya
Corporal punishment is prohibited in all settings in the country, according to Unicef. However, the organisation said the right to "administer reasonable punishment" is yet to be repealed.
In 2015, a teacher filmed some colleagues as they "tortured" a student at Kaveye Girls' High School in Vihiga county, in the Western Province.
Following arson attacks on at least 100 educational buildings in the country earlier this year, there have been calls to reintroduce corporal punishment in schools.
Gatanga MP Humphrey Njuguna claimed the reintroduction of corporal punishment could curb school unrest. "We have seen the repercussions of abandoning the old ways of ensuring our children maintain high levels of discipline," he was quoted as saying in July.
Egypt
Although corporal punishment is banned in Egypt, there have been reports of the practice still being used in some public schools.
In October 2015, a boy alleged he was lashed 40 times by his teacher after after he tried to talk to his friend during class.
In Egypt, 78% of children aged between 2 and 14 are still exposed to corporal punishment by their caregivers, according to Unicef.
Ethiopia
According to article 36 of the 1994 Ethiopian Constitution, every child has the right "to be free of corporal punishment or cruel and inhumane treatment in schools and other institutions responsible for the care of the children".
In 1998, the Ministry of Education outlawed the use of corporal pounishemtn in schools.
However, a 2015 Unicef report claimed 30% of children aged 11-17 still experienced corporal punishment. The report also said children in government public schools were most likely to experience corporal punishment.