Taylor Swift and Calvin Harris have split up, it has been reported. The former music power couple, who had been together for 15 months are said to have ended things amicably with 'no drama.'
The announcement comes just days after the DJ narrowly escaped serious injury in a car crash, forcing him to pull out of his Las Vegas gigs. A source told People magazine: "There was no drama. Things just don't work out sometimes."
Romance first blossomed between Taylor, 26, and Calvin, 32, in March 2015 and the pair have been inseparable ever since. Their social media accounts are littered with cosy photos and gushing tweets as the pair went public with their romance.
And they weren't afraid of PDA's, and were frequently caught on camera looking loved up as they supported each other at their respective gigs. Last year they were named the music industry's highest-paid celebrity couple by Forbes, with combined earnings of more than $146 million.
It looked like the relationship was set to last, with friends claiming that the Trouble singer had finally found love. The pair marked their one year anniversary and shared a photo of their celebration cake with the caption "One year ... That was easy." There were also reports that Harris had proposed to the US star and they were due to tie the knot in a Scottish castle in a fairytale wedding. They had even discussed names for their children.
Swift has become as renowned for her romances as for her chart-topping music, having had a series of high-profile relationship with stars including Jake Gyllenhaal, John Mayer, Joe Jonas, Connor Kennedy and Harry Styles. The Bad Blood singer also has a reputation for writings songs about the ghosts of boyfriends past, as she heals her heartbreak through ,her music.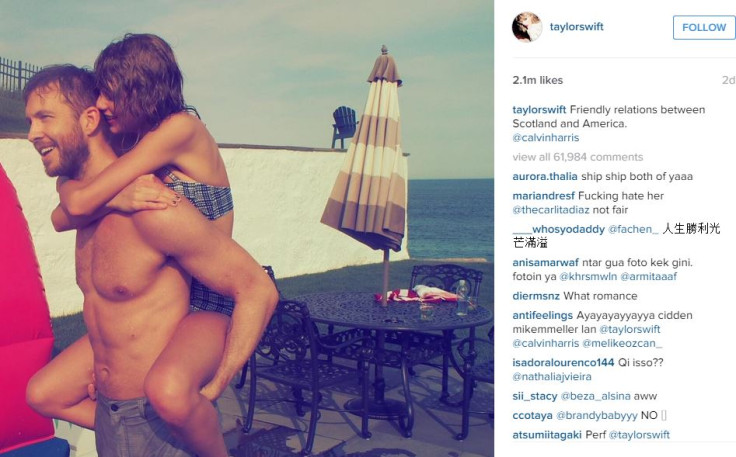 While Taylor comes to terms with her latest break-up, on the upside it's very likely her latest split might spawn another hit record.
Meanwhile, fans of the star were taking to social media to share their feelings about the end of music's golden couple as they anticipate her next album.