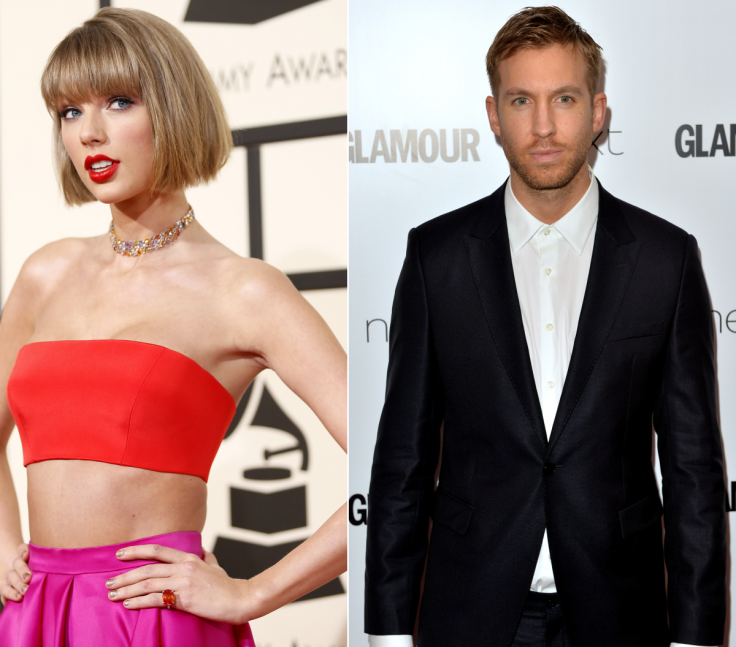 Taylor Swift apparently gave a sweet kiss to Calvin Harris following her boyfriend's DJ performance at the Omina in Las Vegas on 19 March. Swift also shared a video on Instagram that shows her grooving to the beats that her boyfriend played.
"Calvin played at the Omnia in Vegas last night and he wasn't alone. Taylor joined him and kept very low key and out of the limelight. Most people had zero clue that she was there but she was watching his set intently as if he were the only person in the room," an eyewitness told HollywoodLife.
"She kept her eyes locked on him, not in a creepy way, but in a very loving way. And they shared an embrace and kiss in the dark as Calvin ended his gig. You can tell she is head over heels for him."
Swift's Instagram video shows the Blank Spaces singer look intently at her 31-year-old boyfriend, who mixes the beats for the crowd. Next Swift turns to the camera and says "where's the drop?" Then the music kicks off and Swift breaks into her peculiar dance moves.
This is not the first time the two lovebirds were spotted kissing. A few days ago, the couple shared pictures showing them kissing romantically at an undisclosed beach.
The Bad Blood singer also shared a video of her jumping on an aqua trampoline and captioned it: "That time when we finally took a vacation."
On 6 March, Swift and Harris celebrated their one-year anniversary. The DJ gifted his 26-year-old girlfriend a heart-shaped locket with the date they started dating on engraved on it.